Just in time for the holiday season, Just World Ed's supporters have the chance to bid on some super-distinctive holiday gifts– and one-third of the sale price will go to JWE to help fuel our upcoming projects.
The set of three framed maps shown above is just one of the very special lots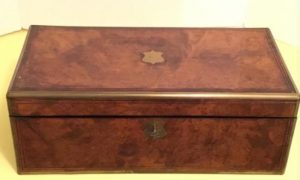 available through this one-of-a-kind auction, which closes in the evening (Eastern time) of December 5.
So is this historic, 19″-wide walnut "Jefferson traveling desk" (right): It opens out to provide a slanted, leather-covered writing surface and contains an inkwell, compartments for your stationery, and even a secret nook…
These items are some of many that my spouse Bill Quandt and I chose to release as part of our recent downsizing. They're being sold in an online-only auction run by CTbids.com, which takes one-third of the proceeds. Bill and I have decided to split our two-thirds take equally between Just World Ed and the Charlottesville Friends Meeting (Quakers), of which I have been a part for the past 20 years.
We invite everyone who is interested in fine antiques and artworks, or looking for lovely holiday gifts, to join the auction. You can acquire some wonderful things at great prices and know that your purchase will help to support these causes!
CTbids gathered the items into lots for the auction, photographed them, and posted a very low starting price. After the December 5 closing, winning bidders can choose either to pick up their purchases from the zipcode-22903 location on December 8, or to have CTbids ship the items to them.
Many of the items in the sale are too heavy to be worth the shipping cost, but I have identified a few of the lots that would be worth shipping… so that people throughout the U.S. can now consider bidding on them.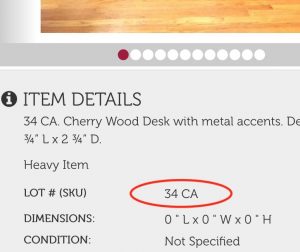 If you live in easy reach of Charlottesville, do look at the whole of this online auction, which contains many fun and useful items for a home or business. To find our sale, go to CTbids.com, then enter "22903" for the zipcode. As you scroll down, keep clicking on "Load more items" at the bottom until they're all loaded. (A  small number of lots in the "22903" sale belong to someone else. All of ours have "CA" in the LOT # under the photo slideshow, as shown here. The ones that aren't ours have other letters there, instead.)
For many of the items in this auction, the bid-prices are currently ridiculously low, so please do what you can to help us increase them– and be sure to circulate this information to any of your friends who might be interested, too!

For all the items pictured on this page, just click on the photo to go to the relevant lot-listing on the CTbids website. Each lot-listing contains a slide-show of numerous photos of the items in the lot; fairly detailed descriptions of the items in the lot; the current lot price; and more information for buyers.
If you want to place a bid or simply place a "Watch" on the price of some lots, you need to go through a very simple registration process at the site.
So here are the items/lots, in addition to the ones already pictured above, that I judge to be worth the cost of shipping out of Charlottesville and that I therefore invite you to bid on: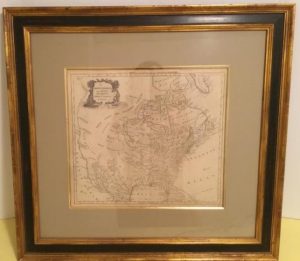 This beautifully framed, historic (circa 1779) map of North America, at right.
The map itself is 15″ x 13.5″, and with the gorgeous frame it is 26.2″ x 25″. Here's the medallion at top-left of the map: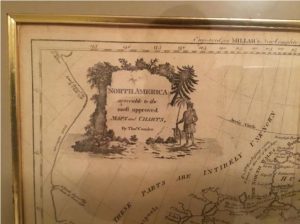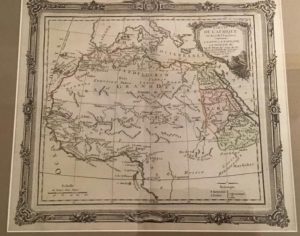 This nicely framed, French 1766 (that is, pre-Revolutionary) map of North Africa:
Framed, this map is 19″ x 17.8″. And here is the label on the back: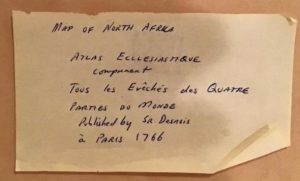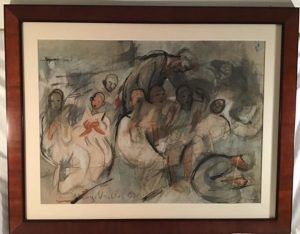 This beautifully mounted painting (right) by the Swiss-Egyptian painter Margot Veillon. It's of a Quranic school, probably somewhere in the Egyptian countryside.
This set of two framed, high-quality, mid-century, Japanese-made reproductions of  prints by famed 19th-century artist Hiroshige: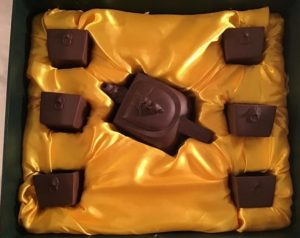 This beautiful, boxed Chinese ceramic teaset by GA Sheng:
Here's what the teapot (3.5″ high) looks like from the side: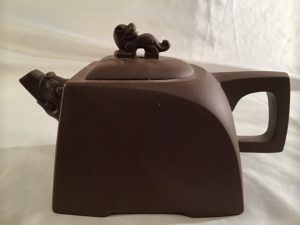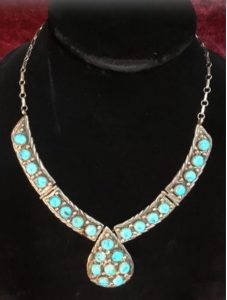 And finally, this distinctive, handmade, beaten-silver and turquoise necklace. I think I inherited it from my mother-in-law, and I expect she bought it somewhere in the US southwest.
Here's a better view of the medallion there: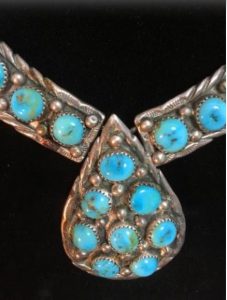 Letting go of all these lovely things hasn't all been easy.  But Bill and I are really delighted at the prospect that the proceeds from this sale can really help boost two fine organizations.
See what you want to bid on– and do please share this information with your friends!