---
Welcome to the website of Just World Educational, a feisty nonprofit providing educational resources and experiences that critically examine the United States' role in the world, focusing on issues of war, peace, and justice, with particular attention to the Middle East.
In March-April, we ran a nine-webinar series "Commonsense on Syria", and later in the summer we're planning to run a webinar series on Gaza.
The Syria project featured 15 distinctive and amazing speakers, four of them joining us from inside the country itself. They represented a variety of views, with a focus on those that are under-represented in the corporate media. We collected the videos of these webinars and put them into this rich Resource Center— along with a growing collection of other, supplementary materials.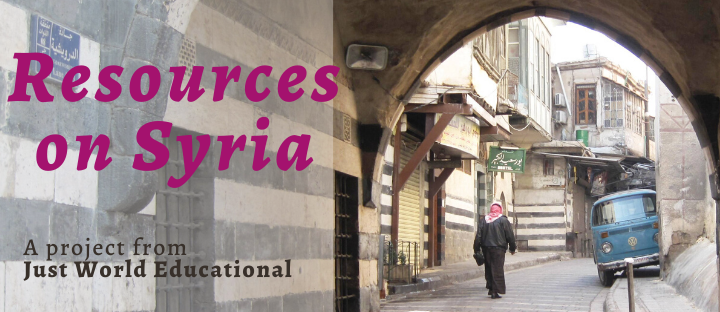 …
In Fall 2019, we brought Palestinian writer, translator, and activist Yousef Aljamal on a speaking tour of the United States. Find an interim report of his tour, here. Read Yousef's fundraising appeal for Just World Ed, here.
Other great ways to stay up-to-date on our work are by following our Twitter or Facebook accounts, or by subscribing to our blog.
We've gotten some great pieces up onto our blog recently, including pieces by our Board members Richard Falk, Alice Rothchild, and Helena Cobban. Check them out!
Usually, the two main ways we fulfill our mission are by organizing live events, in coordination with the network of great allies we've built up around North America, and by conducting online informational campaigns and projects. Right now, we've been moving our live events onto the web.
This website itself is also one of our significant projects. It is– and will always be– a work in progress! Send us your feedback and ideas for how to make it more useful and effective!
… And please join us in building a more just and peaceable world!

Stay in touch! Sign up for our newsletter: