In recent weeks, the NYC-based Nation magazine has hosted an intriguing discussion about the use of political violence in one of the great anti-colonial movements of the twentieth century: the one that brought Algeria its independence from France in 1962. This discussion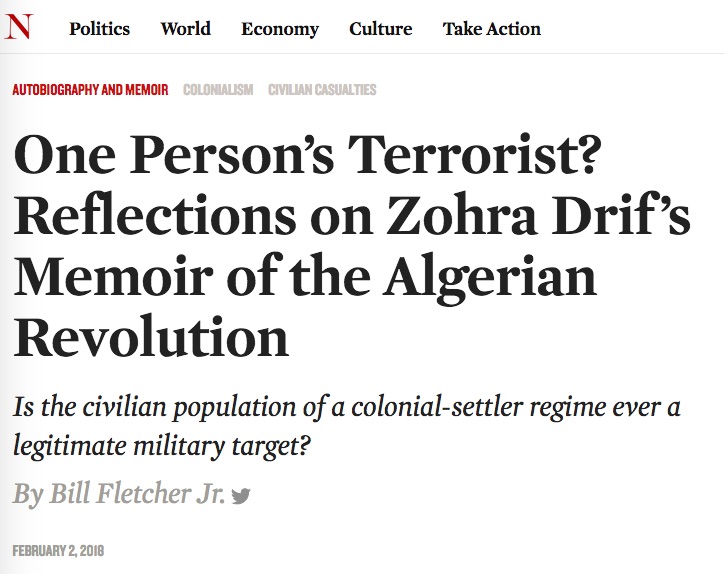 started when prominent African-American intellectual Bill Fletcher, Jr., wrote a review of the memoir published in English last year by Zohra Drif, the recently retired Vice-President of Algeria's Senate and a heroine of her country's national liberation movement.
Fletcher's review– which was billed as a "reflection"–focused primarily on the issue of the political violence that Drif had used in her youth. In 1956, as a member of the armed wing of the Front du Liberation National movement (FLN), she was one of three female militants who placed bombs in places in the capital, Algiers, frequented by civilian members of the  community of French settlers who then dominated the whole country.
"Drif's book," Fletcher wrote,
is striking… because it is the story of a woman who, in the very conservative climate of colonial Algeria, became a revolutionary in the cause of Algeria's freedom. Drif had to overcome the reluctance that existed within her own family, in addition to the repression carried out by the French authorities.
These issues, in and of themselves, would be enough to lead one to appreciate Drif's story. But it is her discussion of the armed activities in which she was involved, including the bombing of civilian targets, that sent chills up my spine and caused me to stop and reflect.
Nearly the whole of the rest of his piece is Fletcher's own reflection on the FLN's use of violence that on occasion– and only after considerable deliberation– targeted civilians. At one point he notes,
I have always been someone who has felt very strongly that civilians should never be the target of military operations. Yet, here was one of the greatest national liberation movements of the 20th century, and they made a very different decision.
Last fall, Just World Educational was able to bring Mme. Drif to the United States, were she did a small (but very busy!) speaking tour that brought her to a dozen audiences in Washington DC, New York, and Boston/Cambridge. She held attendees spellbound with her reflections on the history of Algeria's 130-year period of devastating, nearly genocidal colonization by France, its liberation struggle, and the role she had played as a young FLN militant.
In several of the events she spoke at, and the interviews she gave, she spoke at length and very thoughtfully on precisely the question Bill Fletcher had found so intriguing. (You can read our account of how the speaking tour went, here. If you scroll down there, you can also see links to several other records of the tour.)
In response to Fletcher's recent review in The Nation, the CEO of Just World Books, Helena Cobban (who is also the President of Just World Ed) wrote a Letter to the Editor lamenting its narrow focus. You can read her letter, and Fletcher's response to it, here–again, some scrolling is needed.
In her letter, Cobban wrote,
Drif's book has many other notable strengths [in addition to its detailed, first-person descriptions of what it was like to take part in the FLN's struggle.] It is a vivid account, by a thoughtful and still-living Algerian moudjahida, of what it was like to grow up as a girl in a relatively privileged indigenous-Algerian family under French settler colonialism…and later, of the numerous, multi-layered challenges she faced at a time when her desire to take an active part in the liberation movement often ran directly up against the (perhaps understandable?) desire of the movement's male leaders—and many of its supporters—to preserve as much as possible the patriarchal norms on which they felt their culture's preservation relied.
Fletcher, given the right of reply, underlined that, "Drif's outstanding book presented the reader with a vivid portrayal of settler colonialism's reality in Algeria."
He concluded with this:
Cobban seems to feel that my failure to discuss the myriad other issues that are contained in Drif's book somehow represents a slight. I not only disagree but find such criticism a bit odd, and the tone unusually mean-spirited, since I obviously found the book compelling and encouraged readers to engage it in my essay. The book catalyzed issues I have attempted to understand and explain for many years. Living in a country that looks at virtually everything from the point of view of the settler, I found Drif's book to be a notable and badly needed antidote.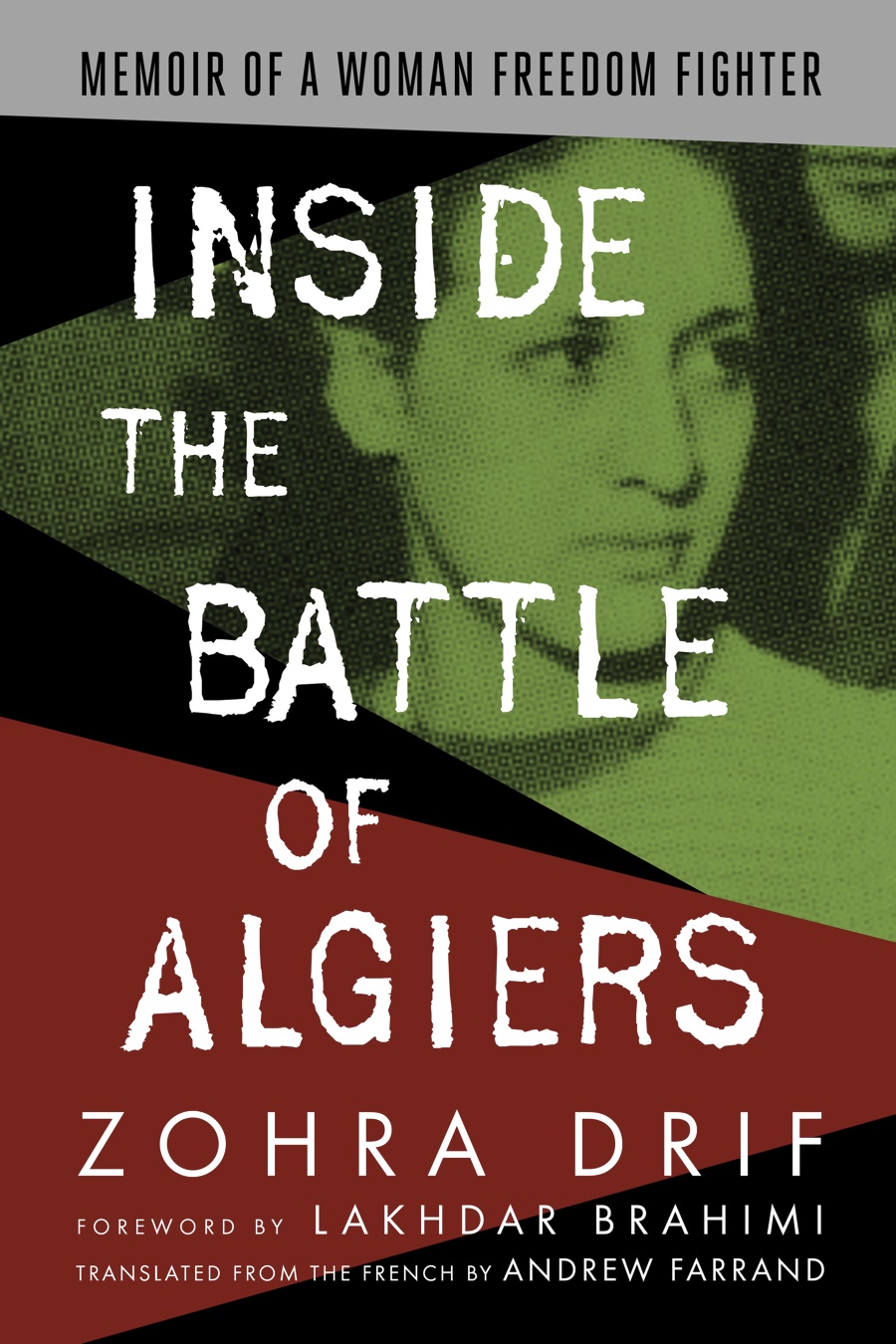 … Anyway, we urge our friends to read and engage with this whole serious issue of how justice activists living– as both Cobban and Fletcher do– in powerful, colonially-formed "Western" states should think about the violence that is sometimes used by "colonized" peoples against the colonial settlers who have been implanted in their countries by the colonizing powers, very often with the aim of replacing them on their own land. These are not, obviously, easy issues to think through.
But we urge our friends, even more strongly, to read Zohra Drif's  powerful memoir, Inside the Battle of Algiers: Memoir of a Woman Freedom Fighter, and to make up your own minds!
(The photo at the head of this blog post, as on the cover of the book, is one taken by the French authorities right after Zohra Drif was arrested, in 1957. She then spent five years in prison, and was released along with all other political prisoners when Algeria won its independence five years later.)