These summer weeks see not just the second anniversary of Israel's  2014 assault against Gaza but also the tenth anniversary of its massive 2006 attack against Lebanon. The 2006 attack on Lebanonwas where Israel's extremely well- (and largely US-)equipped military perfected what in 2008 came to be known as the "Dahiya Doctrine",  a doctrine that explicitly endorsed the use of disproportionate force against civilian infrastructure in order to "re-establish Israel's military deterrence."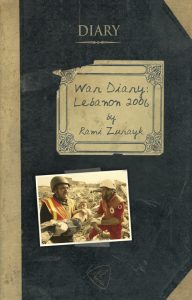 What was it like to be the target of that first use of the Dahiya Doctrine? That was the position that Dr. Rami Zurayk, a professor at the American University of Beirut, found himself in, in the summer of 2006. He kept a diary of his experiences and feelings during those terrible days, and in 2011, Just World Books published a compilation of those journal entries under the title War Diary: Lebanon 2006.
Now, thanks to the generosity of Dr. Zurayk and Just World Books, we are able to offer a free download of the ebook of War Diary.
To get your free download, go to this link on the JWB site. You'll see that they have reduced the price of the ebook to $0.00. So it's very easy to make that "purchase"– no credit card required!
The ebook will be delivered to your email in two formats: both .epub and .mobi. The .mobi is for a Kindle or a Kindle app, and the .epub can be read on several other devices. This offer is good through the end of August.
Dr. Zurayk spent most of the war days with his family, in his apartment in Ras Beirut. But on July 31 (Day 20 of the war), he decided to take a terrifying ride on his motor-bike to his family's ancestral village in South Lebanon, Sinay. Along the way, he witnessed scenes of destruction far beyond what most people were seeing in Ras Beirut…
If you want a little spatial orientation while you're reading the book, you can go to the special maps page we have put into the Resources section here.
Save
Save