At a time of year when many Christians around the world are singing (and perhaps thinking) about "Bethlehem", it's good to remember that Bethlehem, Palestine is a real place, whose 25,000 current residents have been living under foreign military occupation for over 50 years.
The city has its own informational website, in English and Arabic, though currently it's not in great shape. The city's Wikipedia page is fairly informative, as is the much more bare-bones Wikipedia page for the Bethlehem Governorate, which stretches from the Green Line all the way down to the Dead Sea.
Here at Just World Ed, one of our projects for 2018 is to reorganize the "Resources" area on our website to provide strong, thematically-organized multi-media portal pages on the major topics of our concern. Bethlehem should certainly one such topic. Here (pending our ability to devote the needed time and resources to organizing the "Bethlehem Resource Portal"), are some of the kinds of resources we have been gathering:
Maps:
This is the "Jerusalem to Bethlehem" portion of the large, interactive "West Bank Access Restrictions" map that the UN's Office for the Coordination of Humanitarian Affairs in the OPT's produces each year:
Does it look confusing? That's because it is! Basically, the pinky-brown areas are land areas that the Israeli government has illegally seized  in its pursuit of its settlements project. The dark-brown areas are where they have actually implanted settler housing. The light blue-grey is "Area C"– an area where the Israeli forces directly control everything they deem to be "security", though the Palestinian Authority has some control over non-security affairs. The yellow parts are where the PA has a bit more (but still not full) control. The darker yellow shows the areas of the increasingly "concentrated" Palestinian population. The red line is Israel's massive and illegal Wall, and the "X"es mark where access is restricted or more often denied. (If you go to the original, very large version of the OCHA-OPT map, you can find the more detailed key.)
OCHA-OPT's website has numerous additional maps and other resources.
ARIJ (see below, at "Research Centers") and Peace Now also have good maps of what's been happening in the Bethlehem area.
On the above map, the area that is hatched with light-yellow lines is part of the huge portion of Bethlehem governorate that the Israeli occupiers have unilaterally designated as a "nature reserve", and thus made unavailable for any Palestinian development. By the use of such mechanisms, the occupiers have denied to the Palestinians access to 87% of the Bethlehem governorates's land.
Because the Palestinians of the Bethlehem area have been denied access to land, water, markets, and the other aspects of a normal economy, many of them have lived for many years in penury and have been forced to go to work in Israel for very low wages.
Photos:
We realize we need to organize and design our photo collection a lot better! But here are just a few key photos of the Wall near Bethlehem:
By the way, the Wall is about three times as high as the infamous Berlin Wall.
Cartoons:
Our big thanks to Mohammad Sabaaneh for the sad, Christmas-themed cartoon at the head of this blog post. Here are two more from him:
Movies: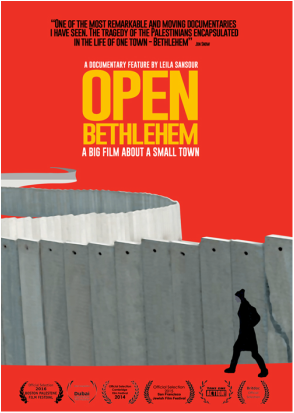 We've been very excited to learn about the new feature-length movie "Open Bethlehem", made by Bethlehem-origin film-maker Leila Sansour! We haven't had time to watch it yet. But since it costs only $4.50 to download the streaming version from Vimeo, this is definitely on our "must watch" list!
For a very evocative short movie treatment of the phenomenon of West Bank laborers having to rise in the wee hours to get to jobs in Israel, see the powerful 4-minute poetry video that Susan Abulhawa made of her poem "Wala". Click on this screengrab to go to the page: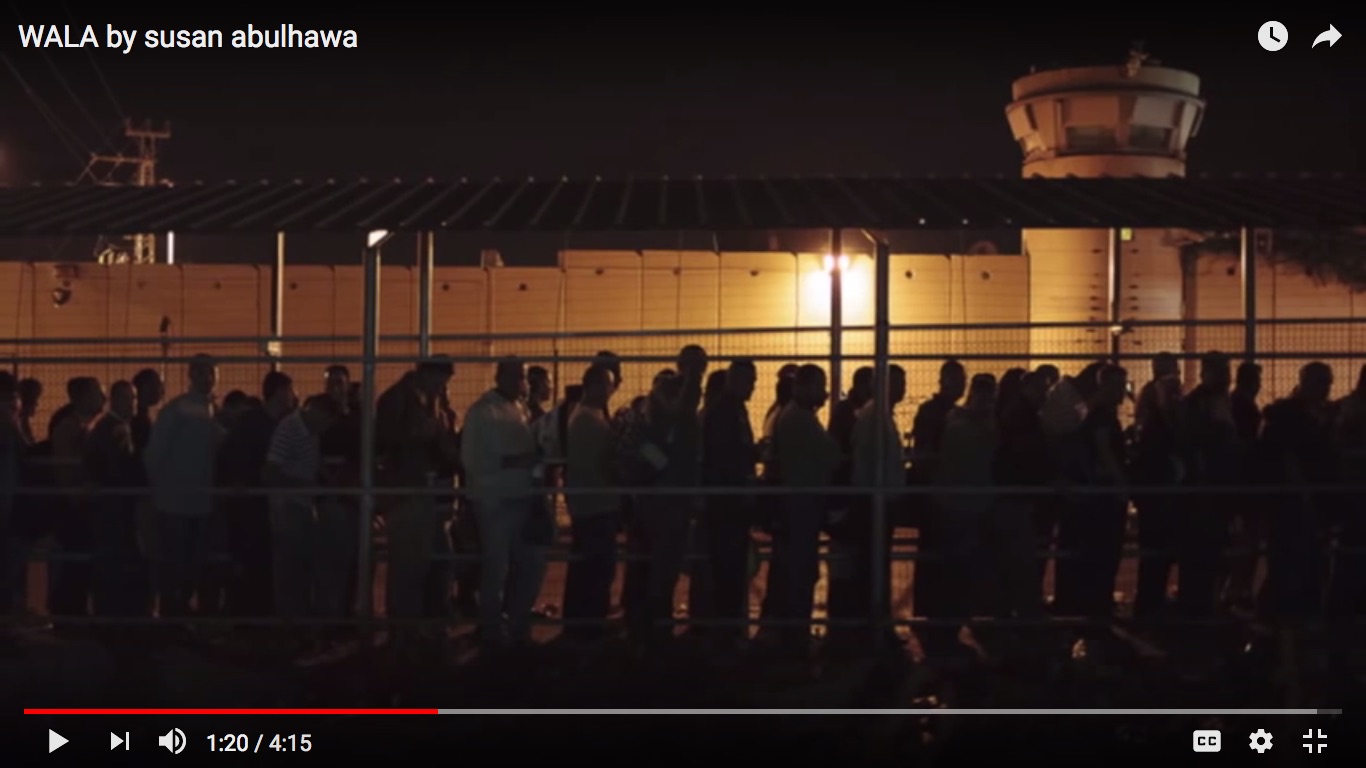 And here's a 90-second short that Reuters recently made, about a super-creative protest against the occupation that some local Bethlehemites mounted this past Christmas Eve. Stay to the end to the see the sea of teargas descending on the city.
Texts: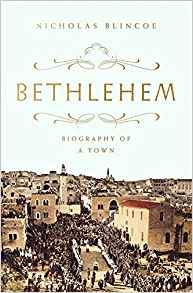 We've also been thrilled to learn about the recent release of Bethlehem: Biography of a Town by Nicholas Blincoe, a British writer who's the spouse of Leila Sansour. The book has a very broad historical and philosophical reach– and it includes a helpful appendix listing all the Israeli settlements in the Bethlehem region.
(If you have read Blincoe's book, or seen Sansour's movie, and would like to send us a review of either or both of these great resources, we'd be delighted to publish that here, and can offer a  modest honorarium for your contribution. Contact us at jw-webbers.justworldeducational.org if you'd like to do this. Thanks!)
You can find an informative interview that National Geographic conducted with Blincoe, here.
And here is "The Story of Christmas told for Everyone", as written by our President, Helena Cobban.
Bethlehem-based research centers:
Bethlehem has a rich intellectual life– though like all its people, the city's intellectuals suffer greatly from not being able to visit Jerusalem (which is a mere 5.5 miles away), or get to most other parts of the West Bank. But here's a preliminary list of some of the research centers that are based in Bethlehem:
And what else??
We realize that the above is only an incomplete and imperfect list of English-language resources on Bethlehem today. We want to fill out this list and organize it a whole lot better so it can become a truly useful place for the English-speaking world to learn more about this historic but threatened city, the surrounding governorate, and the thousands of beleaguered Palestinians who live there.
If you know of resources that you'd like us to add to our future Bethlehem Resource Page, please send them along! Here's how.
We also have preliminary plans to put onto the JWE website well-designed, thematic Resource Pages on other topics of our concern, such as:
Gaza,
Jerusalem,
The Politics of Syrian Reconstruction,
The History of Algeria's National Liberation Movement,
The US-UN Relationship,
How War Harms Earth,
Boycotts and Social Change, etc…
But to do such work carefully and effectively takes real time and resources… and thus, funding!
Can you help us make this happen? On this page on our website you'll find a number of different ways to donate, either online or by snail-mail.
Our big thanks for any help you can give!