---
---
Sanctions, reconstruction and public health in Syria
featuring Dr. Issa al-Chaer & Dr. Adnan Azzouz
---
---
Sanctions, reconstruction and public health in Syria
This session of the series focuses on the effects of U.S. and European unilateral coercive measures, or sanctions, on Syria and the Syrian people, particularly in the era of the COVID-19 pandemic. Dr. Issa al-Chaer and Dr. Adnan Azzouz discuss the matter with JWE President Helena Cobban.
Powerpoint by Dr Issa Chaer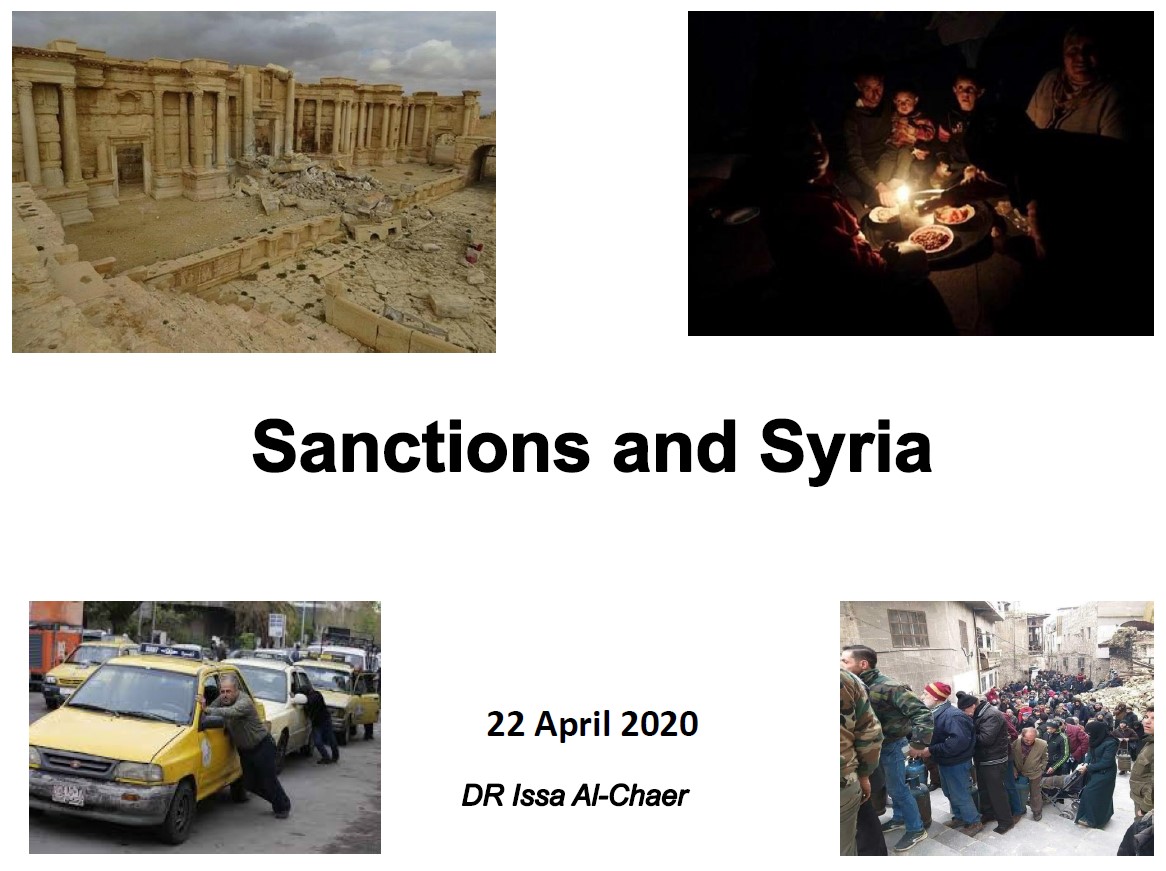 ---
Food prices before and after sanctions, Dr. Kasturi Sen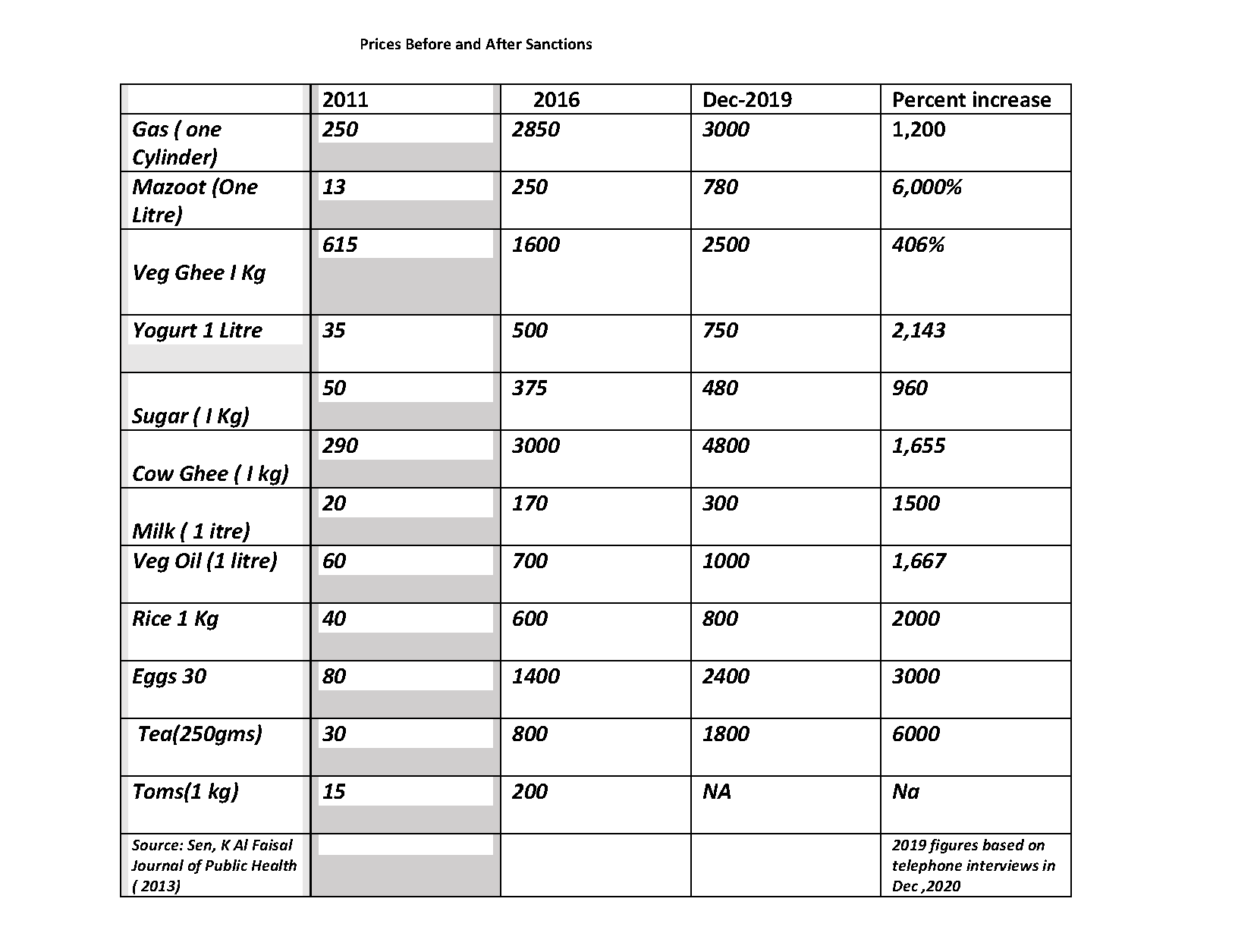 ---
Kasturi Sen, Hamid Hussain, Waleed al-Faisal, "Ethics in times of conflict: some reflections on Syria, in the backdrop of Iraq," BMJ Global Health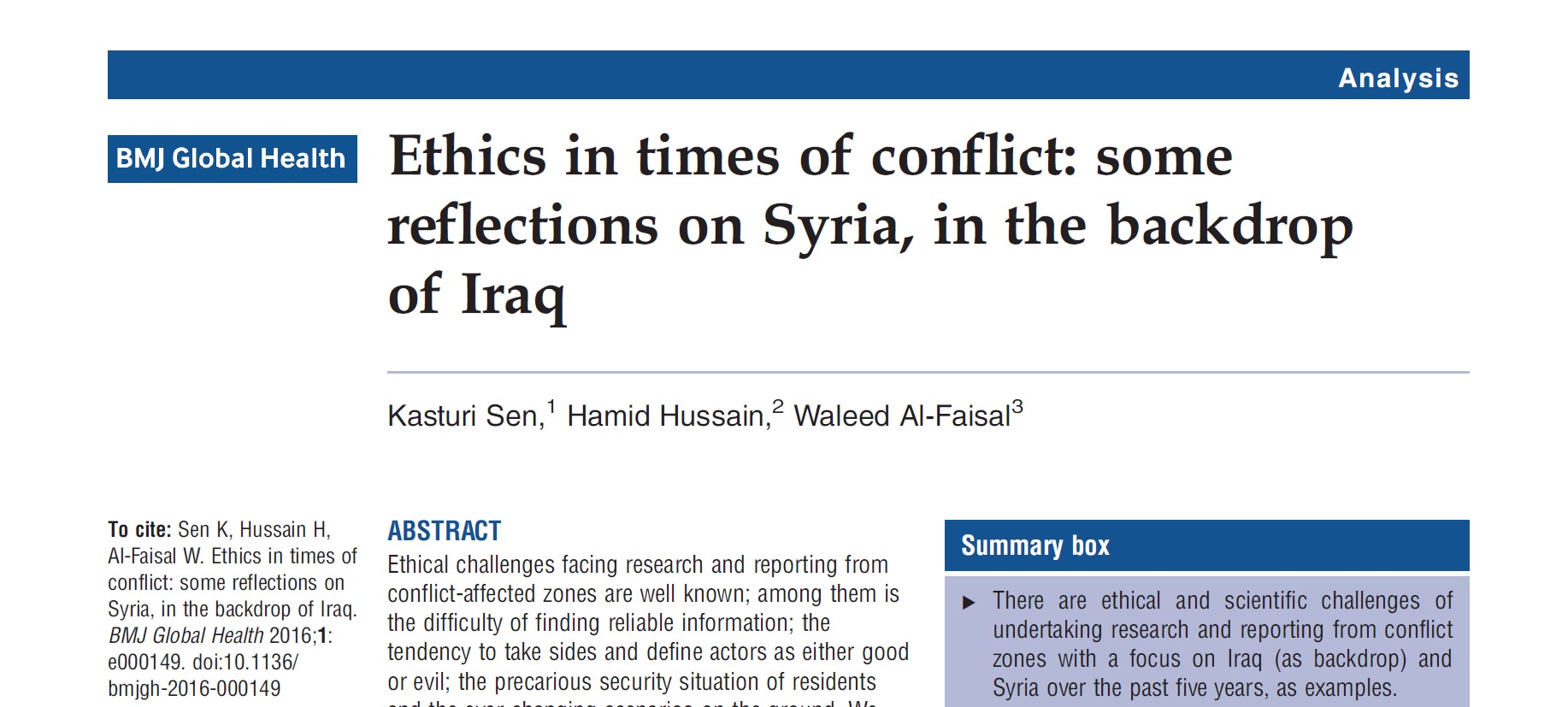 ---
Syrian Red Crescent efforts to curb the threat of COVID-19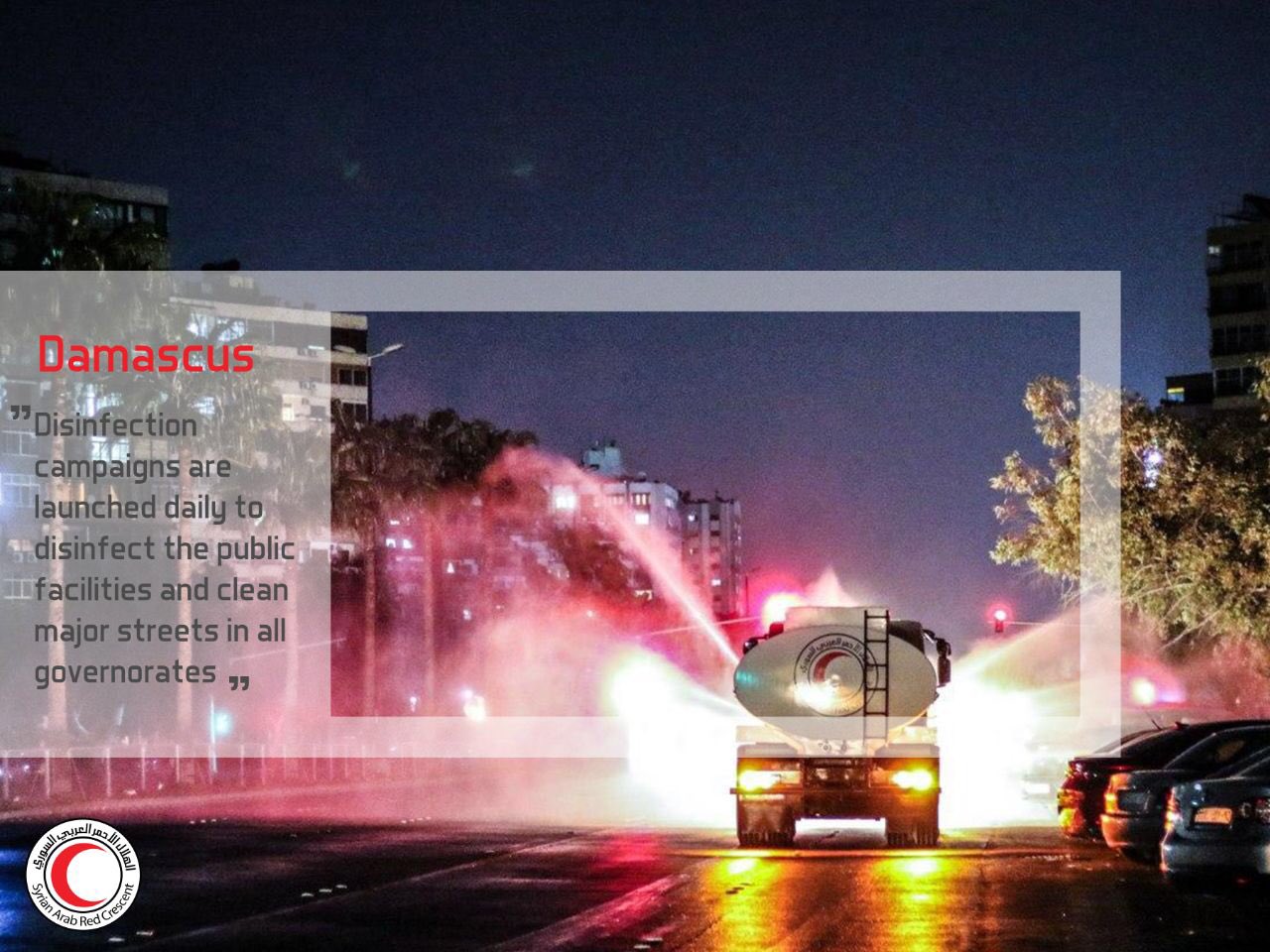 ---
Aron Lund, "Just how 'smart' are sanctions on Syria?"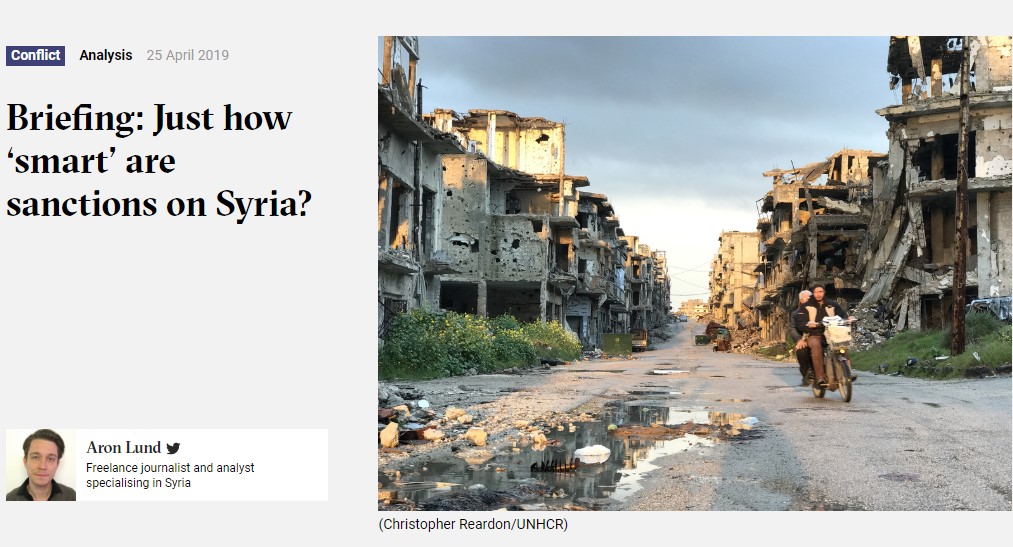 ---
Peter Ford, "Syria: A new policy is needed but not this one"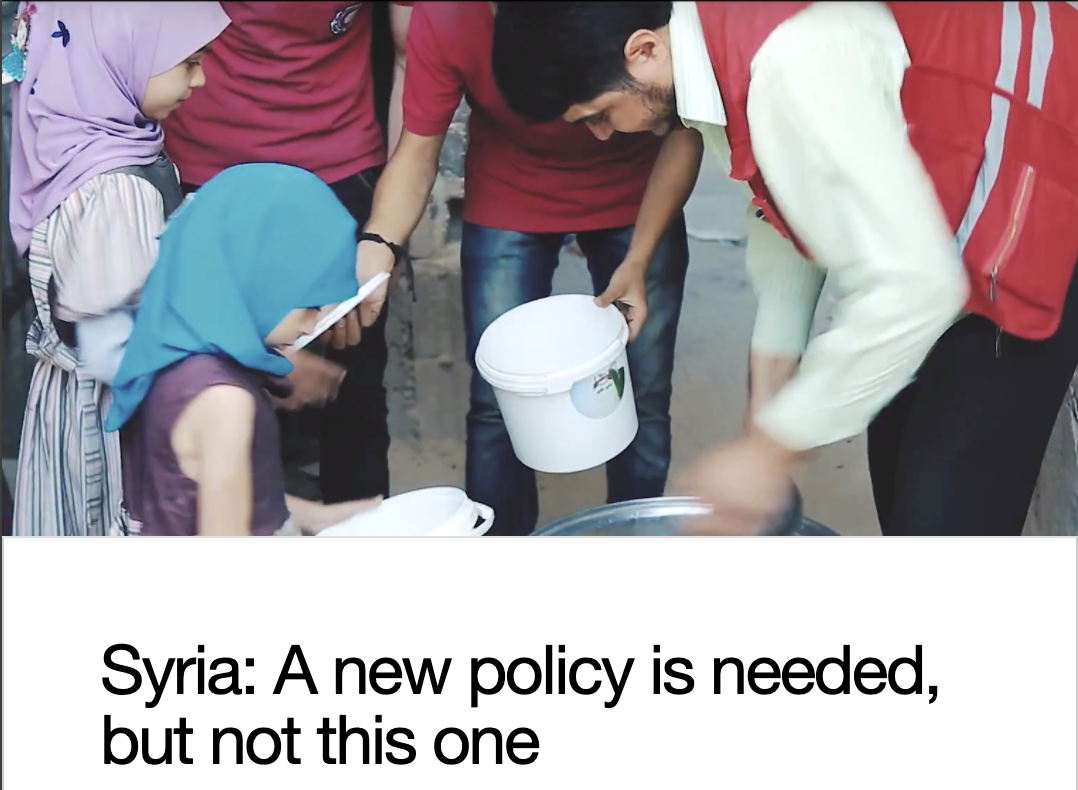 ---
Idriss Jazairy, Report of the Special Rapporteur on the negative impact of unilateral coercive measures on the enjoyment of human rights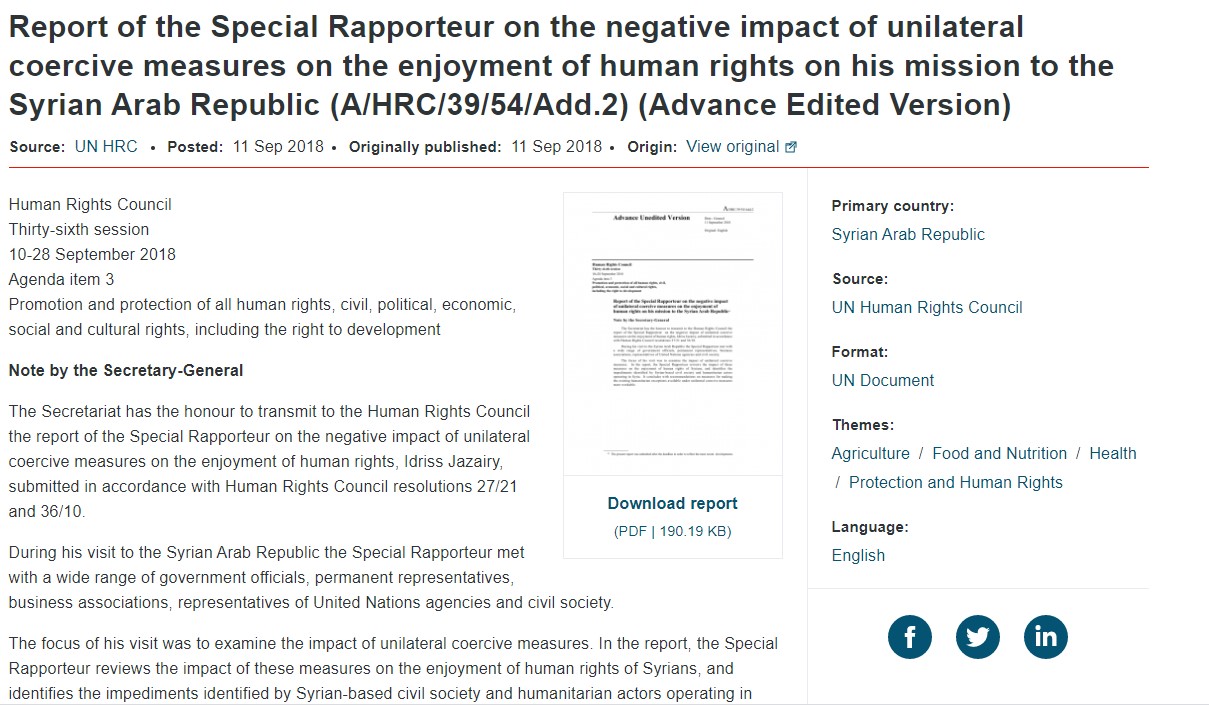 ---
Syria at War: Five Years On, a report by UN ESCWA and St. Andrews University on the Syrian economy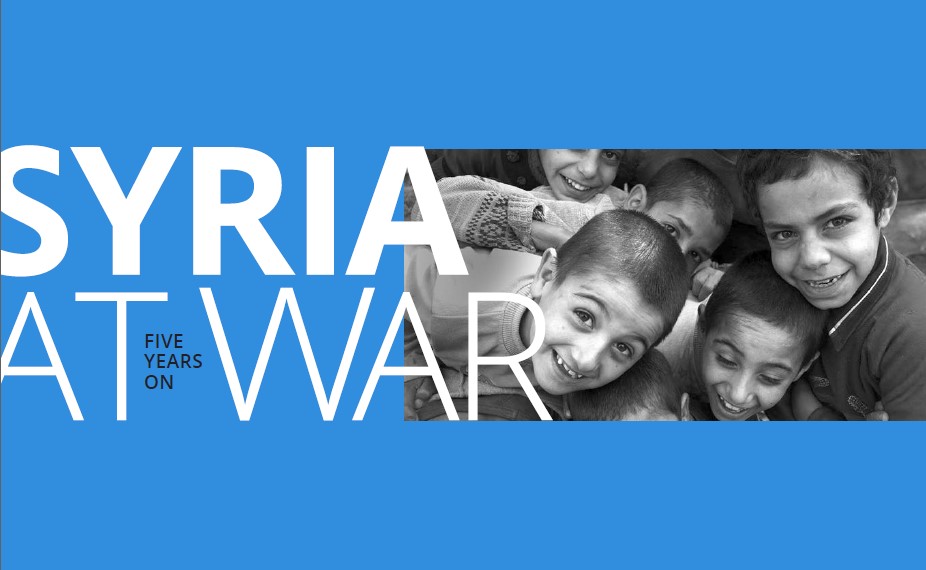 ---
Syrian Red Crescent installing water tanks to address shortages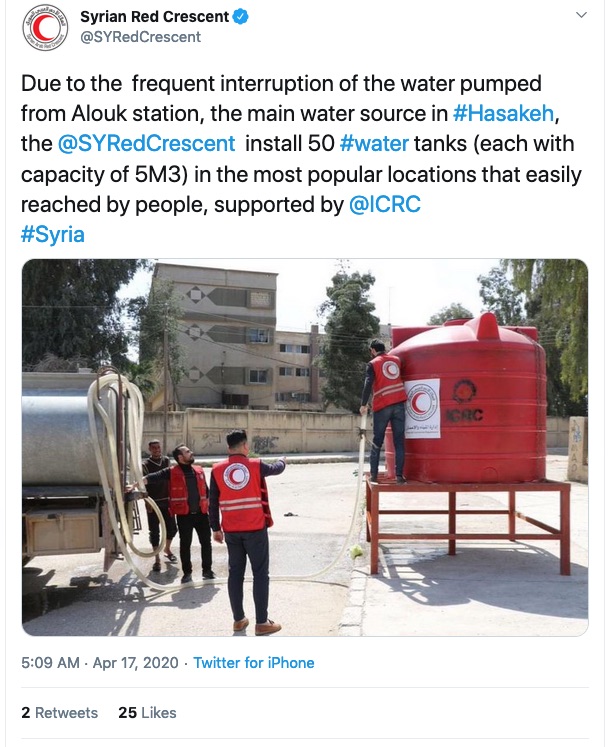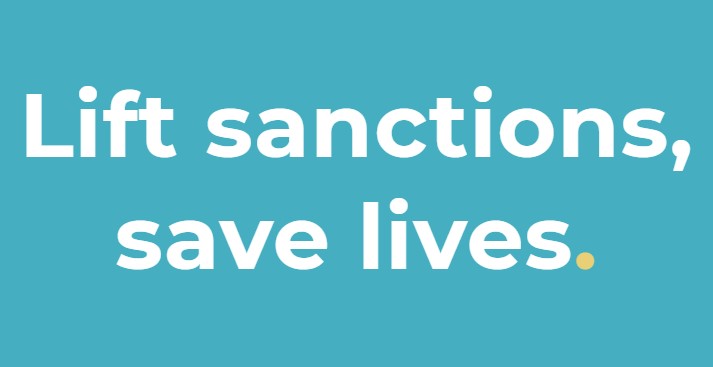 Lift Sanctions, Save Lives
Sign on to this letter from a number of major human rights organizations and NGOs, urging U.S. President Trump to drop sanctions on Syria and many other countries, especially amid the COVID-19 pandemic.

"We therefore urge you to take immediate emergency measures, and consider long-term measures as well, that would allow the peoples of sanctioned countries to respond to the devastating human and economic fallout of COVID-19."
Sign on here: https://www.liftsanctionssavelives.org/
---

Sanctions Kill Campaign
This website provides translations, resources and calls to action to end U.S. unilateral coercive measures against almost one-third of the world, including Syria.
"Sanctions Kill.org will sponsor webinars, education and other efforts and actions on sanctions during the COVID-19 crisis and build toward an International Week of Actions Against US-Imposed Sanctions and Economic War from May 25-31, 2020.. A conference held in Cuba first called this action, which coincides with African Liberation Day, May 25."
Get involved here: https://sanctionskill.org/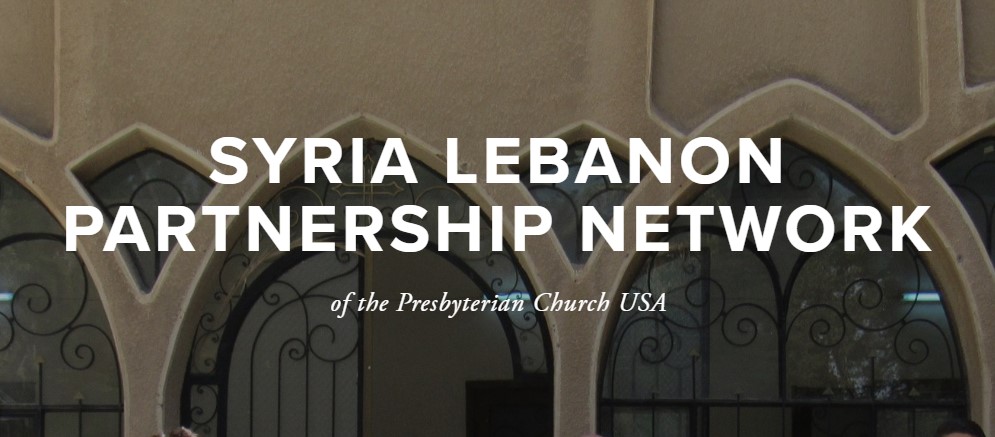 Syria Lebanon Partnership Network of the Presbyterian Church USA
Contact your member of Congress and ask them to lift sanctions on Syria, Iran, Lebanon and other impacted countries. Please contact your Congressional representatives by phone or email and urge them to look into this issue and to work to end the economic sanctions.

Say something like this:
"I'm involved in a mission network of the Presbyterian Church, the Syria-Lebanon Partnership Network. I'm calling to urge you to look into the issue of U.S. economic sanctions on Lebanon, Syria, and Iran, which are hindering these countries' response to COVID-19. The sanctions have caused a shortage of medical supplies and equipment in these countries, dramatically impairing the ability to respond quickly to this pandemic. The United States has always responded generously to humanitarian crises, and we need to act now to lift these sanctions. Thank you."
Learn more: http://www.syrialebanonpn.org/
---
Churches' letter calls for lifting sanctions
This letter was sent to U.S. officials by major U.S. churches to urge these officials to lift sanctions on, among others, Syria and Iran, and to stop the Israeli siege on Gaza. It was co-signed by 14 leading church organizations.
About the Project
---
This series of 10 webinar sessions aims to expand the discourse on Syria here in the United States (and elsewhere) by presenting interactive, web-based panel discussions among people with real expertise on Syria. Our panelists will represent a range of views, including views that have been un- or under-represented in Western corporate media over the past decade.