Two Just World Ed board members, Richard Falk and Nora Barrows-Friedman each had lengthy relationships with the heroic, recently deceased whistleblower Daniel Ellsberg– relationships that were both political and personal. This Thursday at 11:30 am ET Just World Ed will be presenting a very warm and present-focused event titled Dan Ellsberg: The Moral Giant and the Man. It will be hosted by JWE president Helena Cobban.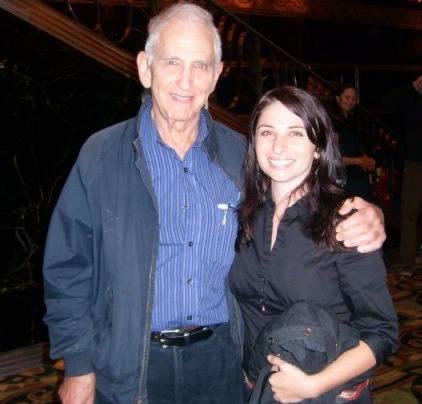 In our webinar, Nora and Richard will share some of the poignant personal remembrances of how the famed Dr. Ellsberg affected their lives. They will discuss the contrast between a Western media environment that has lavishly lauded Dan's truly history-making whistleblowing at a time when our own century's greatest whistleblower, Julian Assange, has been incarcerated for many years in England, at the behest of U.S. authorities determined to punish him for revealing gross U.S. misdeeds in Iraq and elsewhere.
Nora Barrows-Friedman is an award-winning journalist, associate editor of The Electronic Intifada and the author of In Our Power: US Students Organize for Justice in Palestine (Just World Books, 2014). She is the recipient of a Lifetime Achievement Media Freedom Award from the Media Freedom Foundation.
Prof. Richard Falk is a renowned scholar of international law who in 2014 completed a term as UN Special Rapporteur on Human Rights in Occupied Palestine. He is Professor Emeritus of International Law and Practice at Princeton University where he taught for 40 years and the author or co-author of over 20 books. He has chaired or served on the board of numerous organizations including the Nuclear Age Peace Foundation.
Ms. Cobban noted:
I feel deeply honored to be able to moderate the conversation that Richard and Nora will be having on Thursday about their memories of Dan Ellsberg and the need to continue in his footsteps. Both these fine people had lengthy and warmly personal relationships with Ellsberg, and both had some especially valuable interactions with this giant of our times in the last weeks of his life.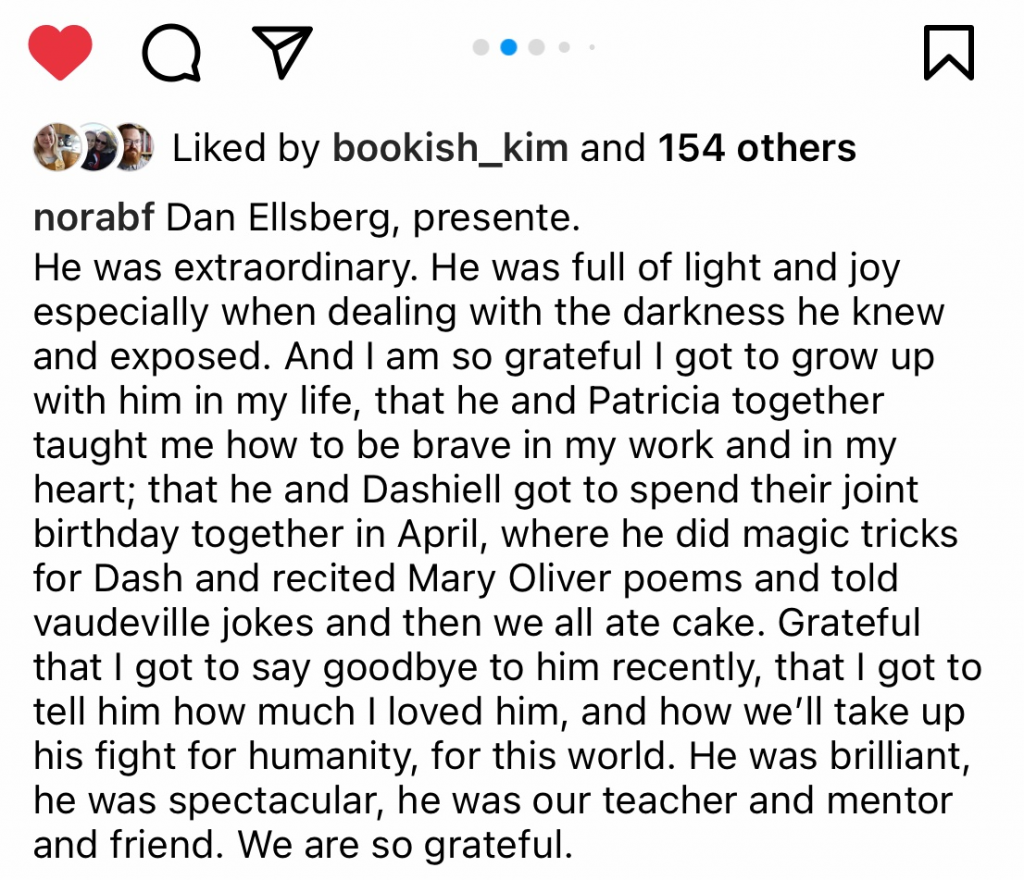 You may have caught this thoughtful reflection on Ellsberg's legacy that Richard Falk penned shortly after Ellsberg's death last month. Or, if you follow Nora Barrows-Friedman on Instagram, you may have caught the lovely short post she put there on the day he died. Click on the text at right to enlarge.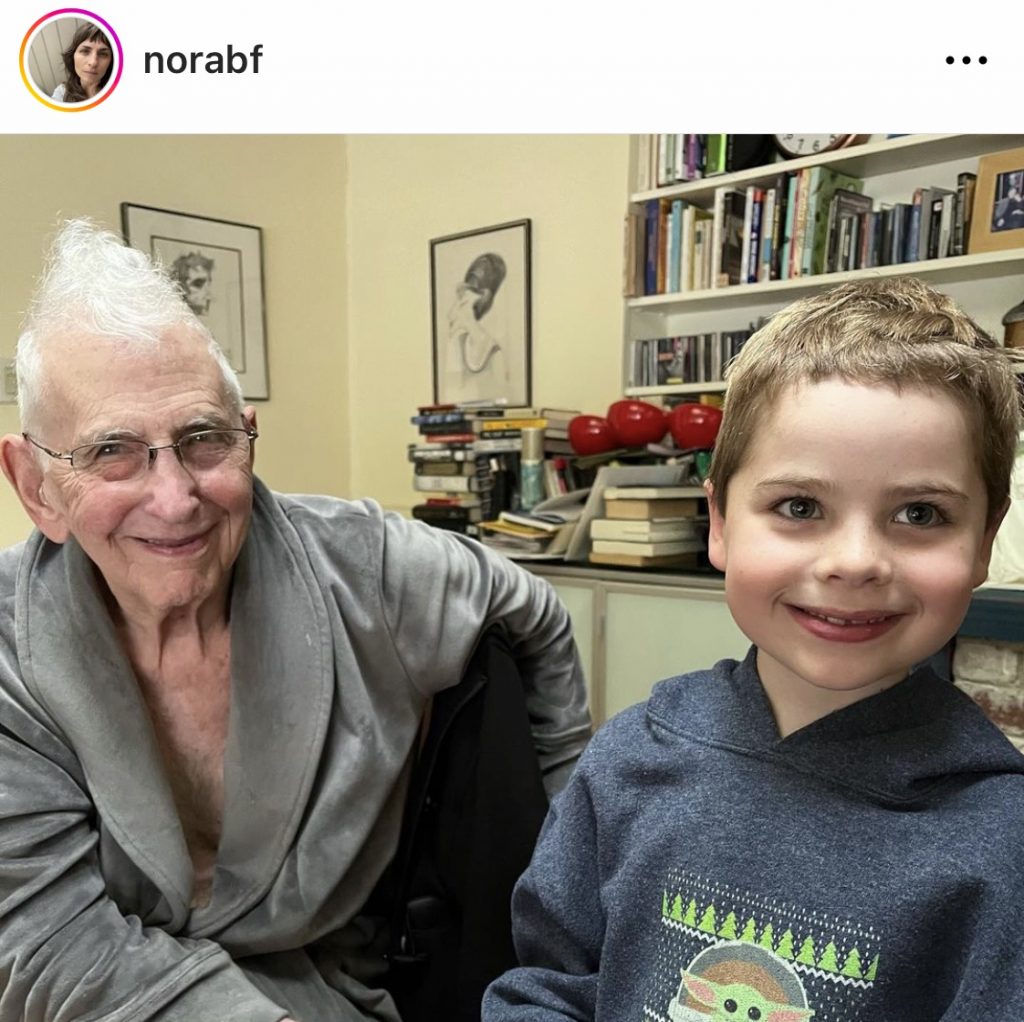 Along with that text, Nora posted some adorable photos, which are shared here with her permission, of the birthday party that Dan and Patricia Ellsberg hosted in April, to mark the birthday he shared with her six-year-old son, Dashiell.
We are planning this webinar as a loving and present-focused homage to a great man that can also, we hope, be a gift to the family members he left behind, as proof that Dan Ellsberg's courageous spirit lives on.
This Thursday's event starts at 11:30 am ET because Richard is in Turkey and Nora is in California; so we hope the timing can work for as many of you as possible, too.
Clearly, the United States and other "Western" countries today need a whole army of courageous followers in the footsteps of truth-tellers and activists like Dan Ellsberg! Join us at our event on Thursday— and be sure to tell your friends about it, as well.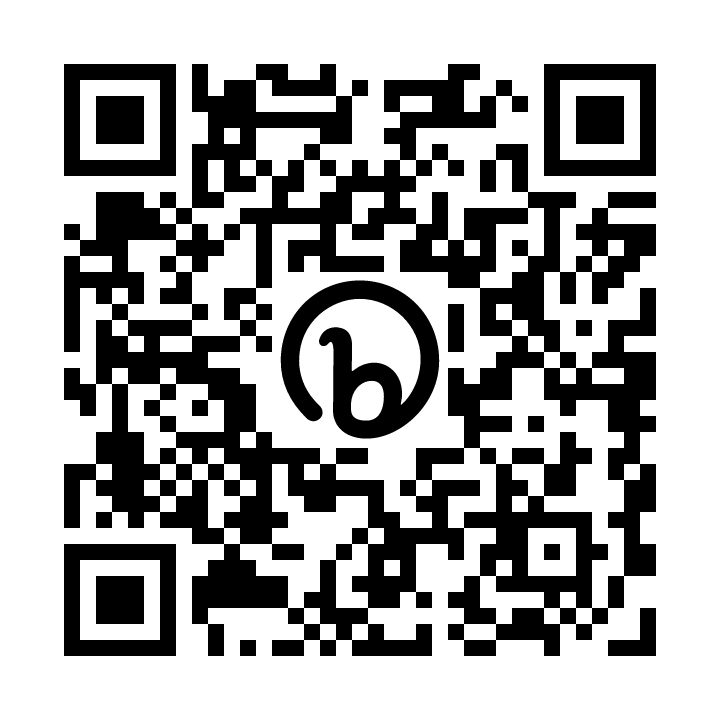 You can access the info/registration page at bit.ly/Dan-E-Moral-Giant or by pointing your phone at this QR code, at right.
(The banner image above is a photo of Ellsberg when he spoke at "De-nuke NATO" event in Washington DC in 1999.)