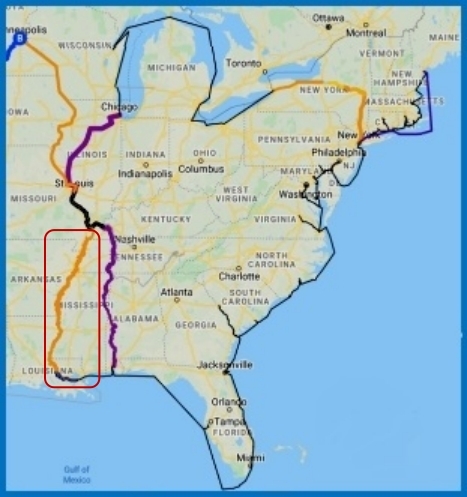 In mid-April 2023, the 30-foot, anti-nuclear sailing ship Golden Rule will be arriving in the Greater Washington DC area as part of the two-year "Great Loop" voyage it is making around the eastern half of the United States.
The ship is currently in Cuba and will then be sailing up the U.S. east coast. You can find its current location on this tracker.
This is a ship that is historic in the anti-nuclear movement! In 1958 it was commissioned by a group of anti-nuclear activists who wanted to sail it in to the area around the Marshall Islands where the U.S. military was planning the largest atmospheric nuclear tests ever seen. (Its captain, Albert Bigelow, later wrote a very moving account of that voyage.)
On that voyage,the Golden Rule sailed as far as Hawai'i before its crew members were arrested… But their activism certainly strengthened the world anti-nuclear movement and helped end the super-harmful practice of atmospheric nuclear testing. In 1963, a treaty was signed in Moscow in which the United States, United Kingdom, and Soviet Union all agreed to give up atmospheric testing, though many countries continued to do underground testing.
After 1958, the Golden Rule fell into disrepair… But a few years ago, an eager group from Veterans for Peace found it and decided to revive its anti-nuclear mission. You can learn a lot more about this super-timely project here.
This April, the Golden Rule will be sailing up the Chesapeake and reaching the Greater Washington DC area. JWE president Helena Cobban is working with a great group of people, convened by VfP, who are working to maximize the effect this ship and her anti-nuclear message can have on everyone in and around the nation's capital. If you live in or near DC and you'd like to work with this group, let her know!
Helena has also been reading Albert Bigelow's account of the 1958 voyage, from which she's been learning a lot. "He and his shipmates were very thoughtful, intentional, and Spirit-led in what they did," she noted. "What they were doing with the 1958 voyage was a classic non-violent tactic of seeking to 'Get in the Way' of violent activities–which those 1958 tests most certainly were."
She added that though that original crew was prevented from reaching the testing zone, it is clear from Bigelow's book and from other accounts like Larry Wittner's classic history Confronting the Bomb that their action helped to catalyze the anti-nuclear movement nationwide. Wittner also noted that that after Bigelow and his shipmates had announced their plans publicly– which was a key part of how they worked– U.S. Secretary of State John Foster Dulles carried on "lengthy discussions" over how to respond with leaders from the Atomic Energy Commission and the U.S. Navy, "while U.S. intelligence agencies swapped data on Bigelow, including information on his private telephone conversations and legal plans."
Here are more illustrations from Bigelow's book (click on any one to enlarge it):