by Miko Peled
We're pleased to publish this report by the Israeli-American peace activist Miko Peled, author of The General's Son: Journey of an Israeli in Palestine and Injustice: The Story of the Holy Land Foundation Five. Peled is currently at work on a book about the sizeable anti-Zionist  current in the ultra-Orthodox (Haredi) Jewish community.
London, UK, December 2018– Recently, sitting in a London pub with friends who are members of the UK Labour party, we were recalling how on a recent visit to Palestine (see photo above), almost every person we met there reminded them that the mess in Palestine today is their country's fault. While this claim is largely true, it may well be that the Brits–and particularly British Labour–will be the saviours of Palestine. Decades of hard work by Palestine solidarity activists in the UK have created an environment ripe for change–so much so, that at the UK Labour Party conference held in September in Liverpool, a motion was passed calling to review the sales of British arms to Israel.
Furthermore, in his speech on the final day of the conference, Labour leader Jeremy Corbyn, a long time supporter of Palestinian rights, said what no other Western leader would dare to say, namely that, "Our party is united in condemning the shooting of hundreds of unarmed protesters in Gaza by Israeli forces and the passing of Israel's discriminatory Nation State Law. The continuing occupation, expansion of illegal settlements, and the imprisonment of Palestinian children are an outrage."
He made those comments in front of a cheering crowd of some 12,000 members. Throughout the entire conference one could see members carrying the Palestinian flag and in many ways it seemed like a rally for Palestinian rights.
Decades of Activism
George Galloway (shown at right) has been fighting for justice for over four decades. As a former MP he not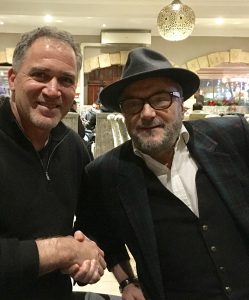 only stood firm but acted with great commitment against Israel's oppression of Palestinians and against the sanctions and the war on Iraq. He is one of the most prominent voices for justice in Palestine and not surprisingly, he is also a firm supporter of Labour leader Jeremy Corbyn.
He told me of his initiation into the issue of Palestine in the early 1970's and today, he remains committed to the cause of freedom and justice in Palestine more than ever.
Galloway was kind enough to invite me to a recent dinner, held on a very cold and rainy evening at the lovely "Beirut Nights" restaurant. (It was actually a family gathering where I was able to meet his lovely family .) I held an enlightening conversation with him on Palestine, the solidarity movement in the UK–and the virtues of debating openly with representatives of Zionist organizations, something I had just done a few days before our meeting.
"The state of the pro-Palestine camp in the UK is far better and stronger than it ever was," Galloway told me, and of course what took place at the Labour conference was a testament to that. With regular events in support of Palestinian rights, protests when Zionist representatives come to present their case, and divestment votes, activism on UK campuses is robust.
Indeed, on a recent tour of UK campuses, the Israeli ambassador to London  was met with numerous protests and in some cases was blocked from entering. At City, University of London the ambassador was forced to cancel the event.
BDS
The Palestinian call for boycott, divestment and sanctions against Israel, or BDS, has changed the discussion on Palestine everywhere and has been particularly significant here n the UK. One recent and very significant development was the announcement by the British Quakers that they will not invest in companies that profit from the Israeli occupation. Their exact statement was, "the church will not invest any of its centrally-held funds in companies profiting from the occupation of Palestine." And, they added, "While Quakers in Britain is not a member of the full Boycott Divestment Sanctions (BDS) movement and does not advocate for BDS, we do support the right of organisations and citizens to engage in such democratic and legitimate means of nonviolent protest."
According to a lengthy piece by Nathan Thrall in the Guardian, "Israel sees the international boycott campaign as an existential threat to the Jewish state. Palestinians regard it as their last resort." Both claims may be true. The article continued by noting, "In the UK, BDS has brought turmoil to courts and local councils, embroiling them in disputes over the legality of local boycotts of settlement goods."
To me, this "turmoil" means that there is a robust debate, and an opportunity to challenge the Zionists in the public sphere.
Pushback
As may have been expected, all this created a reaction. In one recent court case which did not end well for the Palestinian cause, the British government was initially found to be in the wrong for banning public bodies from joining the Palestinian call for BDS–but then, a higher court later ruled for the government upon appeal. According to Middle East Monitor, this legal battle was over guidance released by the British government in 2016 that stated that, "using pension policies to pursue boycotts, divestment and sanctions against foreign nations and UK defence industries are inappropriate, other than where formal legal sanctions, embargoes and restrictions have been put in place by the government."
In another legal attack on BDS, in the London Borough of Barnet Conservative Councillor Brian Gordon filed a motion with the borough council to criminalize BDS. The motion used the International Holocaust Remembrance Alliance (IHRA) definition of anti-Semitism to support its claim that BDS is anti-Semitic.
Middle East Eye reported in 2017 that "British university staff are being advised to 'risk-assess and manage' events on campus relating to 'contentious' issues including Palestine and criticism of Western foreign policy in the Middle East in order to demonstrate their compliance with the government's Prevent counter-extremism strategy."
The creators of "Safe Campus Communities", who include the Higher Education Funding Council for England (HEFCE) and the government's Department for Business, Innovation and Skills (BIS), told Middle East Eye the list was intended to promote free speech by encouraging universities to ensure that "topics that may be seen as controversial" could be "debated in a safe environment".
Elsewhere in the training material, the topics are described as a "list of views that may be regarded as extremist but are not illegal". Accompanying notes state that holding such views "may be legitimate provided they are not expressed or furthered by statements, deeds or actions which result in the harassment, intimidation or threats of violence against individuals or society itself". The training material included slides such as this, below: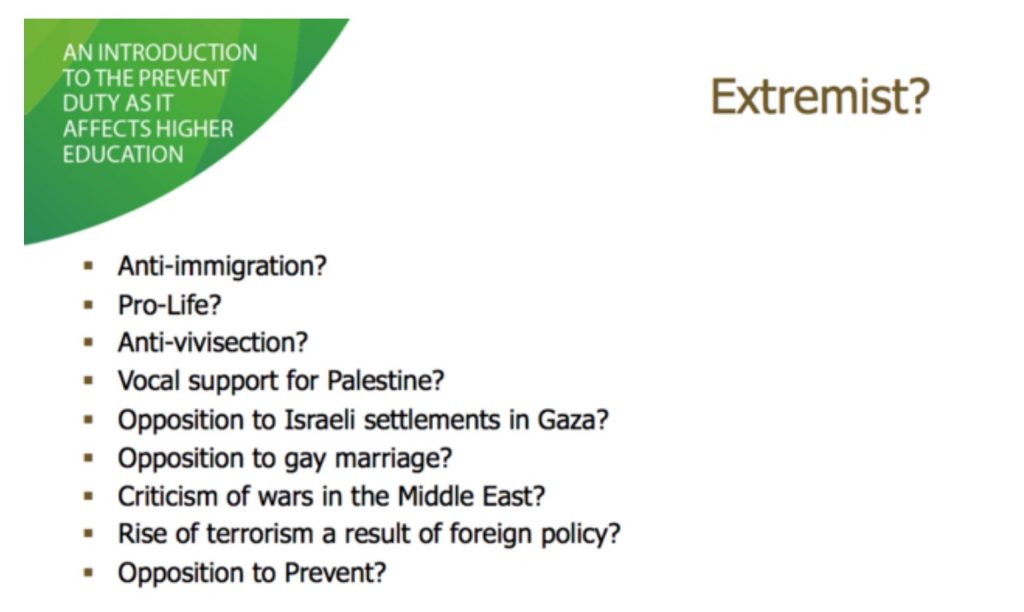 It has been my experience that this quest for an allegedly "safe environment" (which is part of the UK government's "Prevent" initiative) has in some cases been used to prevent a robust debate and to prevent people from coming to events on Palestine.
For example, at Westminster University in London people had to register for the event I was speaking at, some 48 hours prior, or they were not allowed to attend. At other universities only students and faculty were permitted to attend and those wishing to do so had to register in advance. In one case there were suspicions that a Zionist organization booked the entire event by registering fake names and while organizers thought the event was "sold out" very few people were  actually in attendance.
The UK Haredi Community
Another intriguing part of the Palestinian-rights movement in the UK (as elsewhere) is the ultra-orthodox (Haredi) Jewish community.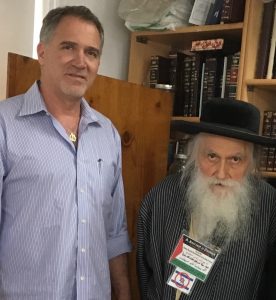 One notable leader in this community is Rabbi Moshe Dov Beck, shown with me at right. He left Jerusalem after the 1967 war and today lives in Monsey, NY where he has been an outspoken anti-Zionist for decades. His son, Rabbi Elhanan Beck lives in London and he too is an anti-Zionist activist.
(I asked the elder Rabbi Beck once why he had left Jerusalem. His reply was, "I do not want the Zionists to crown their state with my beard, my peyot and my kaftan." The peyot are the side-curls orthodox Jews grow and the kaftan is the unique coat Haredi Jews wear–all symbols of their devotion.)
In London, Rabbi Elhanan Beck (shown below) said to me, "I have lived in the UK for more than 30 years and I do not know what a British soldier looks like. In Jerusalem every child knows what a soldier looks like and what guns they carry. How can they (the Zionists) claim that Israel is a safe place for Jews?"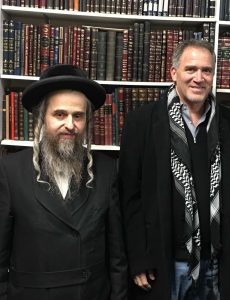 He also says that there is no foundation to the claims of growing anti-Semitism in the UK. "Look at me, I obviously look like a Jew and I have never had any problem here."
Zionist organizations in the UK claim that the vast majority of UK's 260,000 Jews are Zionist. But the Haredi community, which numbers close to 40,000, stands firmly against Zionism. "I will give you 100 pounds for every Israeli flag you find in our community," Rabbi Beck says with a smile, "one hundred pounds!"
Rabbi Aharon Cohen lives in Manchester and he too is an active and outspoken anti-Zionist. He and I gave a presentation together at an event on the sidelines of September's Labour Party conference in Liverpool. (See a post-meeting photo of us, below.)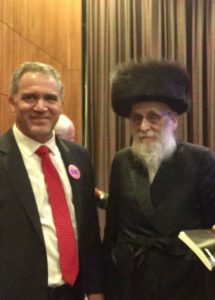 In a conversation we had in December of 2018, Rabbi Cohen asked me why I do not mention the anti-Zionist work of the Haredi community. I had to admit to him that until recently I was in complete ignorance about their work.
This community has done significant anti-Zionist work for over a century and many within it are committed to boycotting Israel and Israeli goods. In fact, according to Rabbi Beck, thousands of Haredi Jews leave Israel and immigrate to the UK because they do not want to live under a Zionist regime. "Every bottle of milk you buy over there, part of the money goes to the state," he says.
How Will It End?
While the common wisdom is that the question of Palestine will never be resolved as long as the US continues to support Israel, it may in fact be the UK government that brings about the most significant change. If the Labour Party headed by Jeremy Corbyn wins the next elections and is able to remain steadfast in its support for Palestinian rights, change for the better in Palestine may be closer than one thinks.