(Update early Sept. : Mohammad cannot do the planned gigs in Canada as the Canadian government officials informed him he needed a longer lead-time to get his visa than we had planned for. Sorry to all his fans there!)
Mohammad Sabaaneh, the hard-hitting editorial cartoonist from Palestine, has been wowing audiences at the Edinburgh Book Festival, Exeter University, and London's "Mosaic Rooms" cultural center.
In Edinburgh, he was featured in a great panel discussion with Guardian cartoonist Martin Rowson and performance artist Phill Jupitus (as shown above).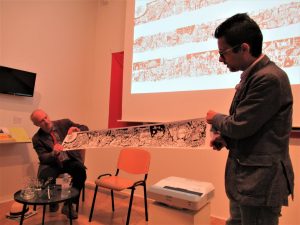 In London, he had an in-depth talk with Martin Rowson, during which they unfurled one of the amazingly detailed friezes with which Mohammad explains the complex and tortured history of Palestine (shown at right.)
In London, Mohammad also had the chance to visit the Tate Modern museum and some other galleries and museums.
Mohammad's current UK tour comes in the wake of great appearances he made at the UN headquarters in New York last November, and in Belgium in May. We are so proud to work with Mohammad, whose powerful drawings and incisive oral presentations have done so much to explain the Palestine Question to a range of different publics around the world.

Just World Ed will be bringing Mohammad back to North American in late October and November this year, for a speaking tour titled Picture This! Life & Art in Palestine. We still (at time of writing) have a few slots left on the tour schedule, so if your community group, congregation, or college would like to to host him, please check the details of how to do so here, and get back to us as soon as possible.
We're thrilled to tell you that we've recently confirmed that Canada will be included on this tour, with the Vancouver chapter of Independent Jewish Voices Canada taking the lead on this.
Further details of Mohammad's upcoming N. American tour will be made available very soon. Please help us give a fabulous welcome to this super-talented ambassador for Palestinian civil society– as well as for cartoonist's rights globally!– when he comes back to N. America this Fall!