Just World Educational's Executive President, Helena Cobban, has launched a broad public exploration of the current challenges facing the antiwar movement (especially in the United States), over at her vintage personal blog Just World News.
On March 18 Ms. Cobban published a blog post, "Why Does Washington's Imperialist Warmaking Continue?", to mark the 15th anniversary (on March 19) of Pres. George W. Bush's launching of the invasion of Iraq. In it, she reflected on how strong the grassroots antiwar movement had seemed– in the United States, and globally– in the leadup to the invasion of Iraq. (The image above is of one of the many very large protests that U.S. cities saw in the weeks before the before.)
But, she noted, that movement failed to halt Bush's push to war. And then almost immediately thereafter,  she wrote,"the antiwar movement more or less collapsed."
In the remainder of the blog post, Ms. Cobban described some of the specific forms that collapse took, and started to explore some possible reasons for it.
On March 26, she published a follow-up blog post, "5 steps to stop Trump from blowing up the world by the end of May", which took as its starting point the nomination Pres. Donald Trump had recently made of Mike Pompeo to be Secretary of State, and his appointment of John Bolton to be his national security advisor, effective April 9.
In this blog post, Ms. Cobban followed up on some of the arguments she had earlier made, to note that the Trump White House seems to be heading toward a war with Iran (long a particular bete noire of Mr. Bolton) and could also decide to launch a major confrontation with North Korea.
The five specific steps she urged, to try to prevent any new U.S. war abroad were:
Swiftly (re-)build in your home town a broad-based antiwar movement of the kind that existed all over America prior to the 2003 invasion of Iraq…
Build the broadest possible (even if temporary) domestic alliances in this phase of rebuilding the antiwar movement…
Remain vigilant in demanding solid evidence of any claims of infractions or provocations by Iran, North Korea, Syria, or other presumed Trump/Bolton targets, and in demanding only the most highly qualified experts to analyze that evidence…
Build the broadest possible (even if temporary) international coalitions to expose and rein in the imperial aggressivity of the Trump/Bolton White House…
Use the Pompeo confirmation hearings and every other political opportunity possible to demand support from our legislators for international norms including the inviolability of existing treaties (like the JCPOA on Iran) and the non-use of force in international affairs.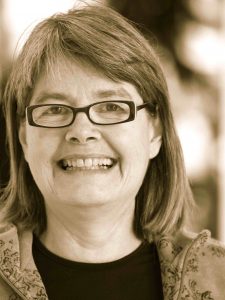 Ms. Cobban has decided to resume, on a part-time basis, the career she pursued as a blogger from 2003 through 2010, and as a public commentator for many years longer than that. From the late 1980s through 2007 she contributed a regular column on global affairs to The Christian Science Monitor, and a separate column to the international Arabic-language daily Al-Hayat. She is the author of seven books on international affairs. She is also a Contributing Editor for Boston Review, and has contributed to numerous other outlets in the United States and internationally over the course of her long career as a writer and analyst.
The publishing company that Ms. Cobban launched in 2010, Just World Books, will be taking a hiatus from releasing new titles for the next couple of years, though Ms. Cobban says she is determined to keep the company's existing list of nearly 40 titles "fresh, and in print", and to continue exploring foreign-rights and other subsidiary-rights deals for them.
Anyway, we at Just World Ed are delighted that Ms. Cobban will continue to play her leadership role with us for the foreseeable future. We will bring you news of her major other ventures in the worlds of writing and public anti-war activism, as they occur.