Just World Ed invites all our friends to join #WarHurtsEarth, the campaign we're planning for the upcoming Earth Day (April 22), to explore, describe, and publicize the many known links between militarism and environmental harm.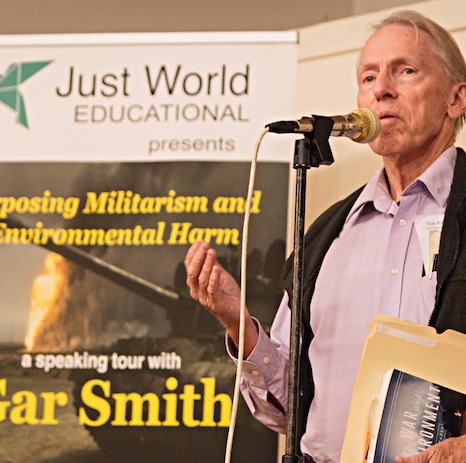 We're delighted that World Beyond War is already working with us on the campaign– as is Gar Smith, the editor of  the recently-published The War and Environment Reader, and JWE's partner in an ongoing speaker series on the ties between war and environmental harm.
For the #WarHurtsEarth campaign, we're planning a combination of "in real life" (IRL) and online activities in the lead-up to Earth Day, and on April 22 itself.
IRL activities:
Here are some of our ideas for things people anywhere can do:
Work other groups or individuals in your community to organize one or more dedicated #War Hurts Earth events there on Earth Day 2018.
Plan good outreach to local media so that the fact and content any such events get well covered.
Contribute Opinion pieces or Letters to the Editor around these issues to local or national media.
Work with Just World Books to make discounted copies of The War and Environment Reader or other print resources available for sale at your events.
Help out with networking in communities nationwide, to maximize engagement with your local initiatives.
Here are things we will do to help make this happen:
We and Gar Smith are composing a powerful public statement with several specific war/environment "asks" on it, that we will be circulating with the goal of getting as many prominent environmental activists and organizations to sign onto it before Earth Day, as possible.
We'll create and make freely available a basic fact-sheet providing data on issues like the contribution the Pentagon makes to carbon emissions, the number of acres deforested during the US-Vietnam War, etc.
We'll create and make freely available a series of graphic images (such as the above one), that people can use in their publicity.
Online activities:
We've found that educational campaigns that combine online and IRL components are the ones that generate the most lasting impact. If we have a unified hashtag, then all the online activities can become synergistic. That's why we came up with: #WarHurtsEarth.
We'd like to see the following happen:
We encourage everyone conducting IRL activities to give them a live online footprint through livestreaming or livetweeting—using the unified hashtag—and also to create rich digital records of their activities that can be archived and shared later.
We invite everyone not able to participate in a live event to spend some time on Earth Day doing online activism, using whatever platforms you have to join and amplify the #WarHurtsEarth campaign that day.
We'll plan to organize at least one 60- to 90-minute "tweetchat" on the #WarHurtsEarth theme, at some point on Earth Day itself. We might use the hashtag #WarEarthChat. (If you've never participated in a tweetchat before, see the detailed instructions we posted here, for the very successful tweetchats we held on Gaza, last August.)
---
Would you like to join our nationwide #WarHurtsEarth campaign next Earth Day?
If so, could you download, fill out, and return this form, and (since our lead-time is quite short) could you return it to us as soon as possible!
Also, since planning a campaign like this takes significant amounts of our staff time and other resources, we'd be very grateful for any financial contribution you can make to JWE, that can help to make this campaign as successful as possible.
You can find directions for donating by check, Paypal, or credit card at this page on our website.