Many notable supporters of Palestinian rights from around the world gathered in New York on June 29, for the first day of a UN-sponsored, two-day conference held to discuss Israel's 50-year-long occupation of the West Bank (including East Jerusalem) and Gaza– and what can be done to end that occupation.
The eight speakers on the first day were more at the official or semi-official end of the spectrum. They included Palestinian negotiator Saeb Erakat; former Israeli foreign minister Shlomo Ben-Ami; the UN's former coordinator for the Middle East Peace Processor Robert Serry.
The gathering, held in one of the large, well-appointed conference halls hidden in the basement of the UN building, was launched with the reading of messages from Secretary-General Antonio Guterrez and representatives of several other intergovernmental organizations, and governments. But soon enough it became more lively as the speakers and attendees speaking from the floor of the hall jousted over issues such as: whether it was any use for the Palestinian leadership to put so much reliance on what looks like an endless, unsatisfactory "peace process"; what should be done about Gaza; whether there is still any hope for the "two-state solution"; and whether the United Nations itself had been at all helpful in securing Palestinian rights.
Saeb Erakat was the first speaker. He read out a message from Palestinian President Mahmoud Abbas that started off by saying baldly, "I wish this meeting had not taken place"– that is, that the occupation had not lasted long enough to justify a conference marking its half-century.
Erakat argued that Israeli PM Benjamin Netanyahu "is trying to replace the concept of two states by establishing a situation of 'one state, two systems'– that is, apartheid." He made a strong pitch that ending the Israeli occupation would be the best way for the world community to counter ISIS, and directly compared the "thugs" of ISIS with the "thugs" in Israel's extremist settler movement who not long ago burned an 18-month-old baby to death "just because he wasn't Jewish."
Erakat also spoke fairly harshly about Hamas, saying that the "coup" they had launched in 2007 had to be brought to an end. (His party, Fateh, and the Ramallah-based Palestinian Authority apparatus that it controls have been at the forefront of the most recent, Israeli-supported efforts to reduce fuel supplies to Gaza's two million people.)
Next up was the high-ranking former Egyptian diplomat, Nabil Elaraby. He called straighforwardly for the full-scale implementation of the UN Security Council Resolutions 242 (1967) and 338 (1973), which both stress the inadmissibility of the acquisition of territory by force. "Getting into other issues like swapping this piece of land for that piece is not needed. We need implementation," he stressed.
In his opening remarks, Shlomo Ben-Ami commented that the war of 1967 had brought Israel "military grandeur but moral collapse." Ben-Ami had been foreign minister in the brieg government that the Labour Party's Ehud Barak led, 2000-01.
He spoke about how he saw the 1967 war and the military occupation that came in its train had also brought about the continued growth of rightwing religious forces in Israeli politics. "We have had a rise in 'ethnic' nationalism and a stress on Jewishness, not Israeliness," he said.
Ben-Ami was harsh, however, in criticizing the BDS (Boycott, Divestment, and Sanctions) movement in support of Palestinian rights, arguing that it had given Netanyahu something to mobilize against. He also used another tack to argue against BDS, claiming that it had anyway been very unsuccessful since Israel's trade relationships with many countries that formerly boycotted Israel such as China, India, and Japan were now massive.
(That latter argument seemed disingenuous, since the countries he mentioned– like many others– had dropped their former, official-level boycotts of Israel a long time ago, in the wake of the 1993 conclusion of the Oslo Agreement between Israel and the PLO, which suddenly gave Israel broad new horizons for its exports, which have disproportionately been in the military and security-services sectors. The BDS movement is much more recent; and as a citizen-led initiative it does not expect, yet, to be able to influence the policies of governments.)
Later in the discussion, Ben-Ami described himself as "now, very pessimistic that the Israeli right and center can ever agree to concede enough to satisfy even the minimum demands of the Palestinians."
He also, interestingly, spoke about what he saw as the limits of "people to people programs", saying the important thing was to end the occupation: "First we need peace, then we might get love. Not the other way round."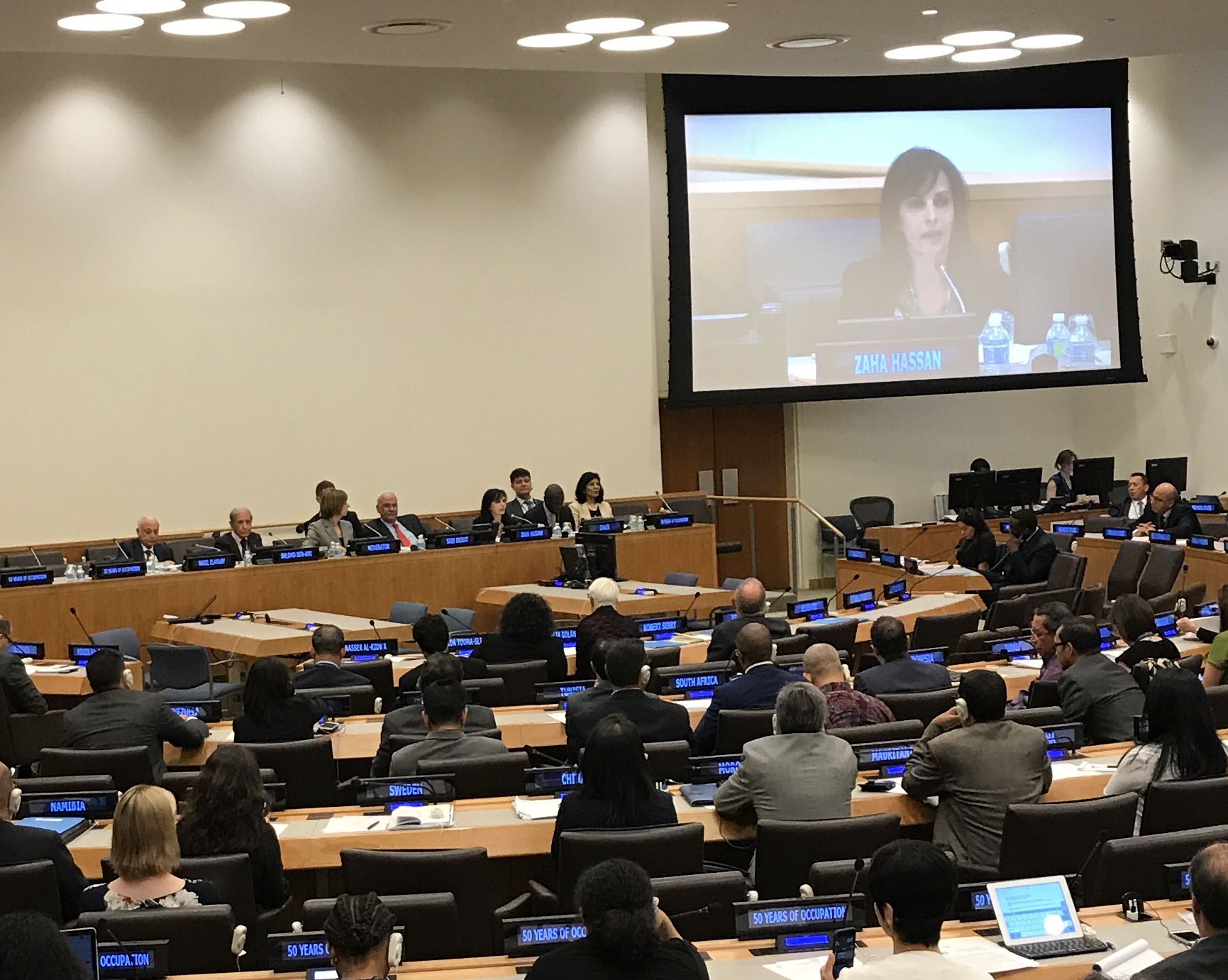 The other speaker on that first panel was Zaha Hassan, who served as the coordinator of the Palestinian negotiating team, 2010-12. (She is seen on the screen, at right.)
Hassan powerfully and very movingly described the plight of the two million Palestinians in Gaza, speaking for a while "as if" she were a young Palestinian in Gaza who had already lived through three fierce Israeli military attacks and ten years of siege and was now facing the extreme curtailment of their electricity supply, with no hope of an end in sight.
After a lunch break a different group of panelists convened. First up this time was Robert Serry, who was reflective about the role the UN had played on the Palestine issue in recent years. He recalled that in 2011 he had started saying that it was getting too late to hope for a two-state solution. "We could maybe discuss a one-state solution," he said, "but I question whether this is attainable."
He also noted that he had been part of three rounds of peace negotiations "– and each failed and resulted in an Israeli attack on Gaza."
He warned against those (mainly in the pro-Israeli camp, though he did not say this) who have expressed hopes that a "new approach of a regional initiative" might be the way to attain peace. "This proposal is mainly to build a focus on confronting Iran in the region," he said. "That will lead to a deepening of the sectarian divide and more conflict in the region. We need a much more comprehensive approach."
He said that maybe at this point, "The UN is more a part of the problem than part of the solution." He also suggested that after so many decades of the United States having failed to win an Israeli-Palestinian piece, maybe the EU could be the next power to lead the peace diplomacy. (He even said that perhaps Brexit could make this easier to do since Britain often worked more closely with the US than with the Europeans and thus acted as a brake on EU diplomacy.)
Serry also spoke of the strong need to overcome internal Palestinian disagreements and not to marginalize Gaza.
Galia Golan-Gild of Israel's Meretz spoke next. She lauded the decision the PLO had taken in 1988 to recognize Israel and called for the full and speedy implementation of Security Council Resolution 2334. That was the resolution passed in late December 2016 in which the Security Council restated its long-held view that Israeli settlements in the occupied territories "including East Jerusalem" constitute a flagrant violation of international law, demanding that Israel stop such activities.
The United States had abstained from voting on 2334, which allowed it to pass. That abstention, coming in the last days of the Obama administration, aroused the criticism of Israel, U.S. Republicans, and other supporters of Israel, who said it was very unfair to Israel– and of many progressive voices in the United States and around the world, who said this tepid endorsement of the international-law position on settlements by the Obama administration was really far too little, far too late.
Golan-Gild hewed much more closely to the longstanding Israeli policy on the Palestinians' Right of return than she did on resolution 2334, warning about the fears that a full-scale implementation of this right by Palestinians would swamp Israel with Palestinian returnees.
Golan-Gild was followed by Aida Touma-Sliman, a Member of Knesset from the Palestinian-Israeli "Joint List".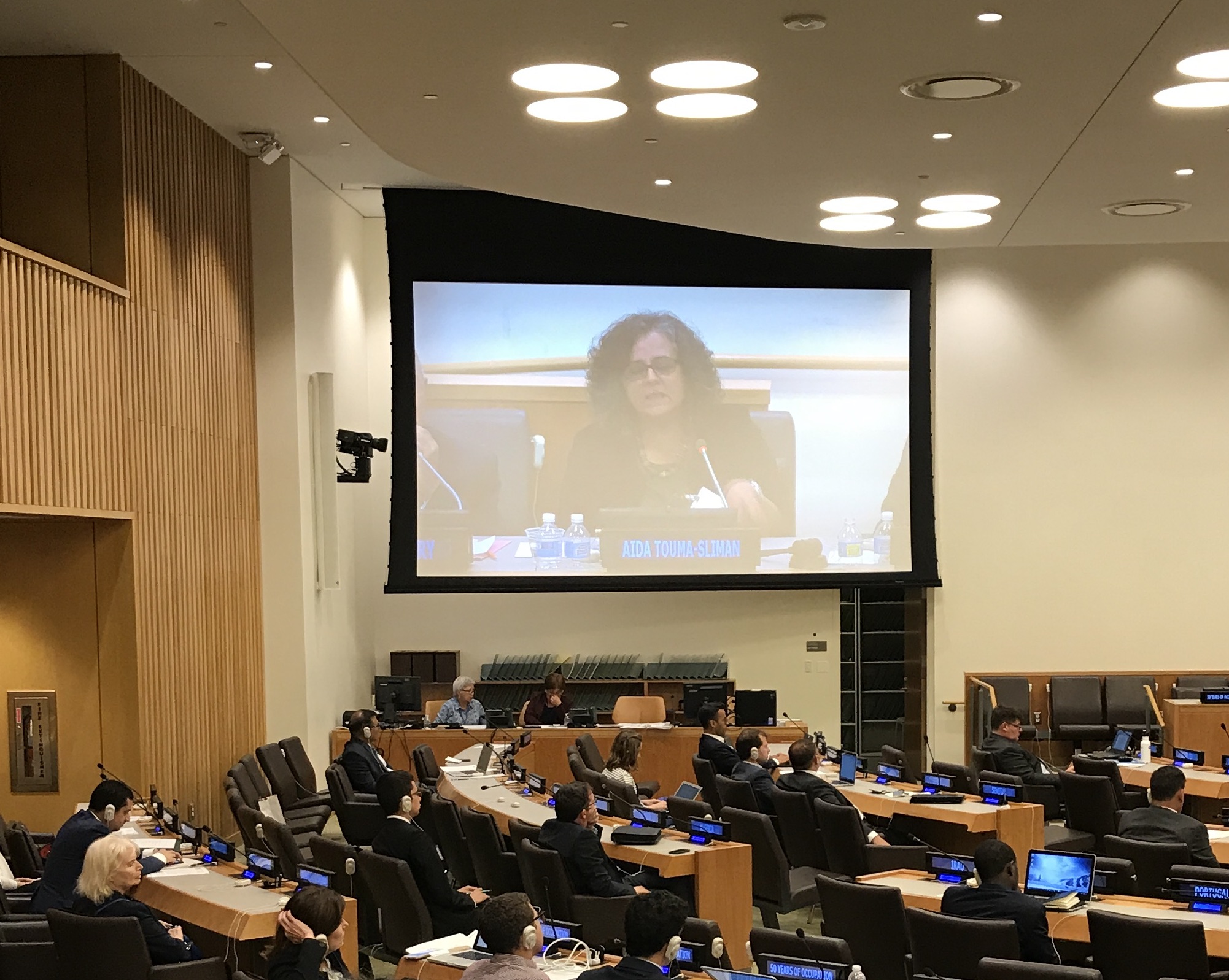 Touma-Sliman (on the screen at right) said with conviction, "I feel part of the Palestinian people and also part of the citizens of Israel." She said it was up to the Palestinian people to put an end to their own internal political divisions
She argued for the need to focus on ending the occupation rather than supporting the concept of a Palestinian state– "since that makes it appear that this is just a 'normal' conflict between two states. It isn't."
Later in the discussion, she said, "We don't need negotiations for the sake of negotiations. That tactic has been used by Israel for so many years to drag things out."
She also challenged something Serry (or perhaps it was Ben-Ami) had said earlier about the essential bargain that was needed being one between Israelis' need for security and the Palestinians' need for recognition. "The issue for Israelis is not security," she said, pointing to Israel's massive arsenal and its clear military predominance over any or all challengers from the whole region. "If you speak of Israelis' fears," she said, "that is something different. Maybe such fear exists. But it can also be created by their government, as we have seen."
Touma-Sliman also (like Ben-Ami) spoke about the steep rise in rightwing sentiment among Jewish Israelis, describing this as the most dangerous thing this rightwing Israeli government has created." But she contested those Israeli panelists who had spoken about a "Zionist left."
"I don't see that you can have a Zionist 'left'," she said, "especially when we see these 'left' Zionists refusing in their coalition-making to be reliant on the parties of the Palestinian citizens of Israel. We are 20% of the citizens of Israel! We want peace so much. But if the peace movement wants to cut us out, there will be no deal– if there still is a peace movement in Israel.
"If they want to make a peace deal, we are the first people they should make a deal with."
The longstanding Palestinian diplomat Nasser al-Kidwa had been invited to the conference but was reportedly unable to get a visa from the United States to be present. In his stead, the current PLO Ambassador to the U.N., Riad Mansour, spoke instead.
Mansour focused strongly on the need to work to find a way to implement Resolution 2334. He also talked about the need to differentiate Palestinian diplomacy, in general, from that subset of it that is devoted to the peace negotiations with Israel. He recalled that back at the time of Oslo, he had supported Dr. Haider Abdel-Shafei and other Palestinian critics of the agreement who noted that it failed to call explicitly for an end to occupation. He noted that the PLO's diplomats have won recognition for the State of Palestine from more than 180 countries around the world and stressed that, "The PLO's diplomatic work at the UN is not subordinated to the 'peace process'."
He also noted that there many people who now argue that a military occupation that has lasted as long as Israel's occupation of Palestine constitutes "something new" in international affairs; and that whereas the traditional way to end a military occupation was by negotiating a peace agreement, maybe with Israel's prolonged military occupation of Palestine some way should be found speedily to end it "regardless of if there are negotiations or not."
This panel then saw some lively interventions from members of the audience, including from Nobel Peace Laureate Jody Williams, Palestinian nonviolence leader Iyad Buran, and Palestinian-American community leader Lamees Dik. Burnat's intervention was particularly moving. He told the conferees that one of his sons had been shot the day before, by the Israeli "security" forces, in their home village of Bil'in, in the West Bank; and he pled with the panelists to work to end the occupation as speedily as possible.
The conference continues today, with a keynote speech from Jody Williams and then three panels featuring an array of civil-society activists and leaders.
Save