Israeli journalist Larry Derfner has continued to get good attention for his thought-provoking memoir No Country for Jewish Liberals, which was released by Just World Books last month. (Even before it was published, No Country received strong endorsements from, among others, the NYC-based writer Peter Beinart and former Knesset Deputy Speaker Naomi Chazan. They can be read here.)
On May 4, the Tel Aviv bookstore Sipur Pashut hosted a book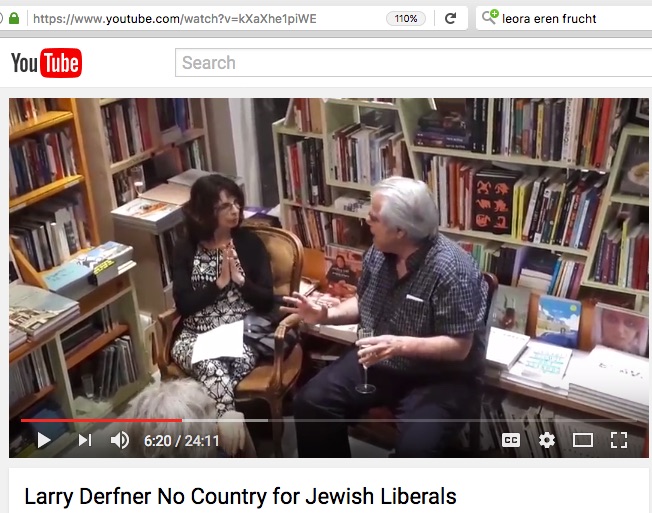 party for No Country. Derfner's colleague on the editing desk at Ha'aretz, Leora Eren Frucht, was the introducer and discussant. She sparked some impassioned discussion from Derfner about the need to end the Occupation and his support for the use of the tactic of "BDS" to do that– though he remains a staunch supporter of the State of Israel.
Clearly, lots of people in Tel Aviv wanted to hear Larry's presentation of his book. The bookstore was totally crammed! But those who were unable to get there can see a great little video of the discussion in this Youtube video.
In his presentation, Derfner told Eren Frucht that "I started work on the book when I turned forty… It took me 23 years to write!" He said that with the book, he hoped to influence,
"mainly, American-Jewish liberals… who feel that something that's going on here [in Israel] is wrong. But they don't know how to talk about it, they don't know how to change it, they don't know how to think about it. They're wishy-washy. They say, 'On the one hand this and on the other hand that'… But that's not going to get it.
"I hope they read it and say, 'I've got to take a more hard stand, a more forthright stand, against the status quo'."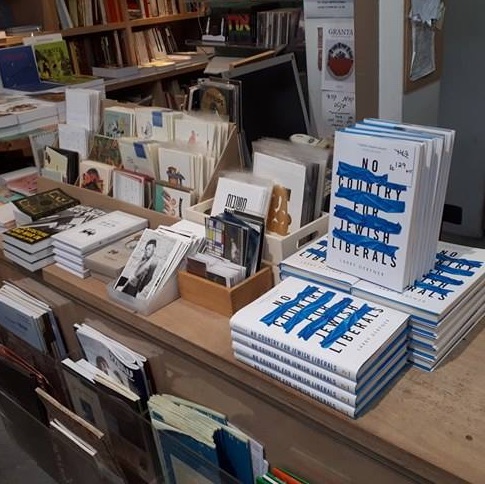 If Derfner's hope is to reach American-Jewish liberals, then he is clearly starting to succeed. The Los Angeles-based  Jewish Journal this week published a thoughtful review of  No Country, by Jonathan Kirsch. The review was titled, "No Country: A view of Israel many won't cheer".
Kirsch starts by noting that,
"Larry Derfner is one of us.
"He grew up in Los Angeles and started his career at City News Service, a fixture of L.A. journalism…
"Nowadays, however, he lives in Israel, where he serves on the editorial staff of Haaretz, and his home is in the "model city" of Modi'in. The story of what he found there — a story with deep resonance for many American Jews — is told in "No Country for Jewish Liberals" (Just World Books), a searing memoir and a challenging critique of Israel by a disaffected American Jew who is no longer at home in his new homeland."
Kirsch then provides a thoughtful summary of some of the book's main arguments, before he concludes:
"As I read Derfner's troubling account of his experiences in Israel, I was fully aware of how his book will be received by a great many readers who are not prepared to hear, for example, that he does not blame the Palestinians for cheering the Scud missiles that Iraq launched against Israel, because 'when you treat people like inferior beings, they're going to want revenge, and we'd been treating the Palestinians like inferior beings for a very long time."
"But I could not forget that Derfner voted for Israel with his feet when he made aliyah. He pays his taxes in Israel, he served in the Israel Defense Forces, and so have his children. He has mastered the details and nuances of Israeli history and politics, both as a journalist and as an eyewitness to the most consequential events and personalities of the past several decades.
"'Writing this is not treason,' Derfner insists. 'It is an attempt at patriotism.'
"For that reason alone, when Derfner speaks about Israel, I feel obliged to listen."
No Country for Jewish Liberals has also been provoking informative discussions of the liberal form of Zionism that it espouses in at least two influential pro-Palestinian-rights websites.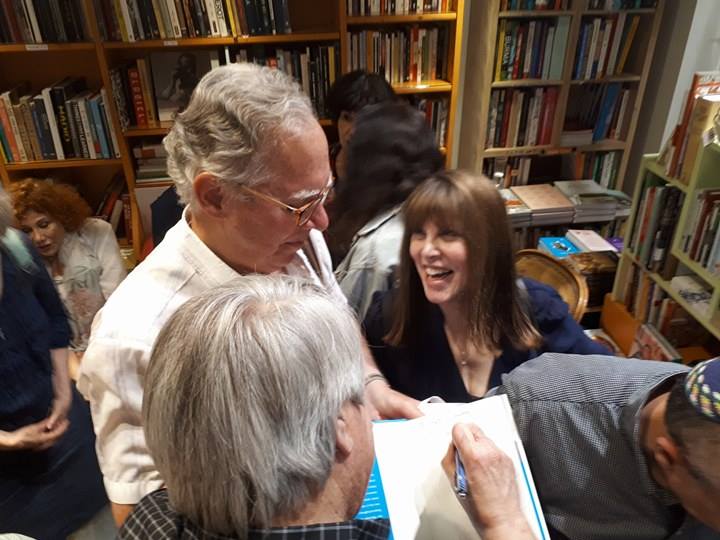 On Phil Weiss's Mondoweiss site, contributor James North was so taken by the book that he published his review of it in two separate parts (1, 2) The first of those provoked a very lively Comments-board discussion of whether a "liberal" form of Zionism is even possible. (Most commenters there argued that it is not.)
Between the appearance of North's two review essays, Mondoweiss also published a strong excerpt from the book (by arrangement with Just World Publishing.) The robust discussion about the possibility of being both a liberal and a Zionist continued on the Comments board there, too.
Later, over at Palestine Chronicle, reviewer Andy Simons gave the book a nuanced (though rhetorically rollicking) final grade, concluding,
"Every passing year and each Israeli Defense Force belligerence makes the narrator question his perceptions. The result is that he's increasingly been publicly, tribally disloyal, condemning the occupation, the seeming tidal chart of Gaza war crimes, and even now praising BDS. Striving to be a good Israeli citizen, his insights at dawn have been cloudy. But let's still grasp that really big wish, that the end of this book is merely another chapter and not a conclusion. Just as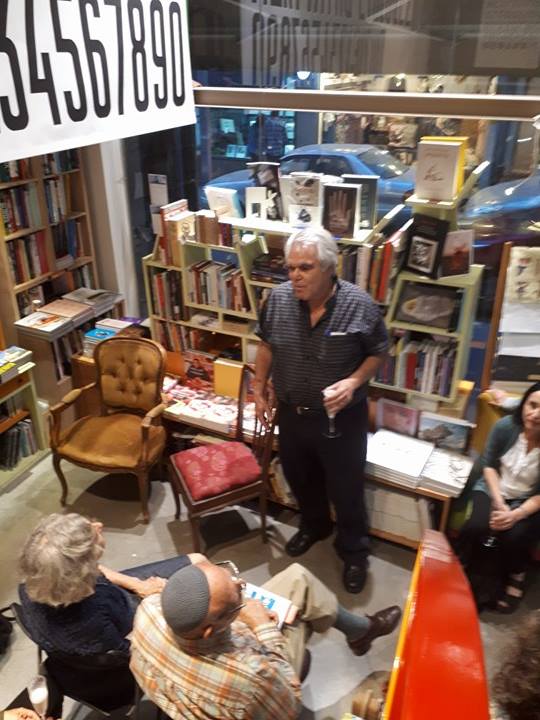 stars'n'stripes Americanness is a kind of religion, he's similarly wrapped in the secular faith of a lone star Jewish state, preferring two problematically polka-dotted plots in the desert to a single, secular, democratic one facing up to the sun, which he feels is an impossibility. His is not a lone voice, but an important if less-accepted one in the world's worst Apartheid country. Israeli Jews do suffer the disease of panic, a fear of their own brutal making. So, Larry Derfner's pleas and apologies are important. But political kicking and screaming can be good therapy, and let's hope he and his fellow patients get well soon."
Derfner remains eager to engage with all the critics of his book, from both the left and the right (though not, he says, the "far right".)
Finally, don't forget to go and watch the lively "Facebook Live" event that Just World Ed's Steve Fake organized in Derfner's home in Modi'in last month, in which Derfner discussed No Country for Jewish with Tel Aviv-based podcaster Gilad Halpern. And you'll find some fun photos from the book's event at Sipur Pashut in this album on the JWB Facebook page. (The photos used in this blog post are taken from that collection, which were kindly taken and supplied by Philippa Derfner.)
Save