On February 5, while some Americans were watching a football match, a wonderful group of engaged activists in Washington DC gathered at Busboys & Poets' downtown location to attend the "Super Bowl of Learning about Health Conditions in Palestine"– an educational event featuring Alice Rothchild, MD, author of Condition Critical: Life and Death in Israel/Palestine.
Over the three evenings that followed, Rothchild spoke about the health/rights situation in Palestine/Israel to other audiences in Philadelphia and on Manhattan's Lower East Side and Upper West Side.
After the Philadelphia talk, held in Wooden Shoe Bookstore, one attendee was heard commenting, "I've never seen so many people in here!" Last night, Rothchild spoke in a Columbia University classroom packed with some 55 people– and the bookstore sold out of copies of her book. Among those in the audience was the great Pink Floyd guitarist and noted Palestinian-rights supporter, Roger Waters!
At each of these stops on her educational tour, Rothchild read selections from her book, as well as blog entries from her most recent factfinding trip to Israel/Palestine– one she undertook just last month. She is convinced that there is tremendous value in bearing witness on the front lines– in sharing the stories of those who are rarely given a voice in the Western corporate media.
Rothchild has a long personal history with Israel. She made her first pilgrimage to the country when she was just 14. However, it was a 1997 delegation that marked the beginning of the very different relationship that she started thereafter to build with Israel. It was during this time that she began to really understand the implications of the Occupation.
Remembrance, Coexistence, and Nonviolent Resistance
Among her readings from Condition Critical Rothchild talked about visiting the historically rich village of Lifta with the Zochrot group, and learning about the tribulations Lifta suffered during the Palestinian Nakba (Catastrophe) of 1947-48. These included ttacks by the Irgun and the Haganah, which depopulated the whole area of Palestinians. She recounted how Israel's first prime minister, David Ben-Gurion had hailed the result: Now, he crowed, there would be no 'strangers' (aka Arabs) in the area. This history of ethnic cleansing was actively concealed by the state– but, she said, groups like Zochrot are working to reveal this past that is "hidden in plain sight."
Another theme of Dr. Rothchild's talks was coexistence. She told how during her latest trip, she walked through Haifa. Her Palestinian guide on this walk explained the discrimination in housing faced by the Palestinian citizens of Israelis. As a property owner, he was told his Arabic name would "bring down property values." Although Israel often touts coexistence between Jews and Palestinians in places like Haifa, she said, the reality is that there is pervasive segregation in living quarters, schools, etc.
She touched upon the living conditions of refugees. She described visiting the Aida refugee camp in Bethlehem, one of the 19 refugee camps that still remain in the West Bank nearly 70 years after the Nakba. The children there have no green spaces to play in, she said. At one point, she saw tear gas being fired at demonstrators by the IDF wafting into the UNRWA school while the kids were taking exams. Among the Palestinians Alice met, she said, there was a general sense of disgust for all political parties. Overcrowding in the camps is appalling. Dr. Rothchild noted the piercing irony of once-ghettoized Jews inflicting similar conditions on Palestinians now.
Many villages in the West Bank have long been engaged in sustained campaigns of nonviolent resistance. In Bil'in, located near the Wall, Rothchild met with the famed activist Iyad Burnat. His oldest son had been targeted by soldiers and shot in the leg. During her time there, another son was shot in the head by a rubber bullet. Mercifully, his injuries were not life-threatening.
The neighboring (illegal) settlement of Modi'in Illit houses 60,000 Jewish Israelis, most of them Ashkenazi Jews from New York.
Other stories she recounted about her travel through the West Bank laid bare the  horrific contrast between the massive ongoing construction of the settlement projects, and the sharply constrained Palestinian villages, cities, and towns.
Throughout Rothchild's tour so far, discussions during the Q&A period have been fascinating and varied.
One young man recounted growing up as an ultra-orthodox Jew, living on a yeshiva in the West Bank. He recalled that quite beyond ideological beliefs, for those in his community, despite living in a settlement, the reality of the occupation was easy to overlook and ignore in daily life.
Rothchild told of another conversation after a talk that speaks to how hard it can be to break from Zionist ideology: "I was talking to a transwoman daughter of Russian immigrants who all voted for Trump and we were talking about Israel and Palestine. She said she had many difficult conversations with her conservative parents, but the one topic that was impossible was….. Zionism."
She has focused on the situation of prisoners. She spoke about meeting with Addameer, a prisoner support association in the West Bank. She reports that 40 percent of the male population of Palestine has been arrested, often during midnight raids. The most common offenses are political: participation in demonstrations, membership in political parties, etc.
Imprisoning children is the norm. There is even an ongoing practice of placing children in solitary confinement. A representative of Defense for Children International told Rothchild that many children are so terrified of arbitrary arrest that they never leave their homes, effectively imprisoning themselves. Since 2000, an average of 2-3 children have been killed each week by the IDF.
Rothchild recounted visiting the Israeli-operated Ofer Prison in the West Bank and witnessing the deal-making of the lawyers in military tribunals with harsh sentences meted out for minor offenses. There is nothing resembling a trial – it is military justice and verdicts and sentencing decisions are made with great haste.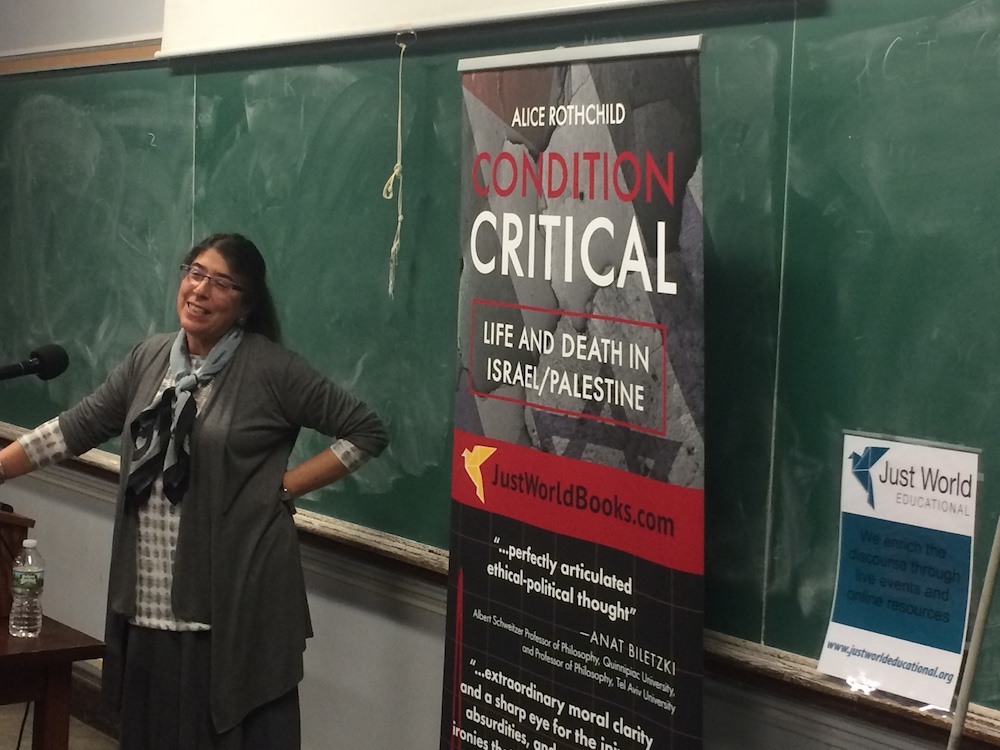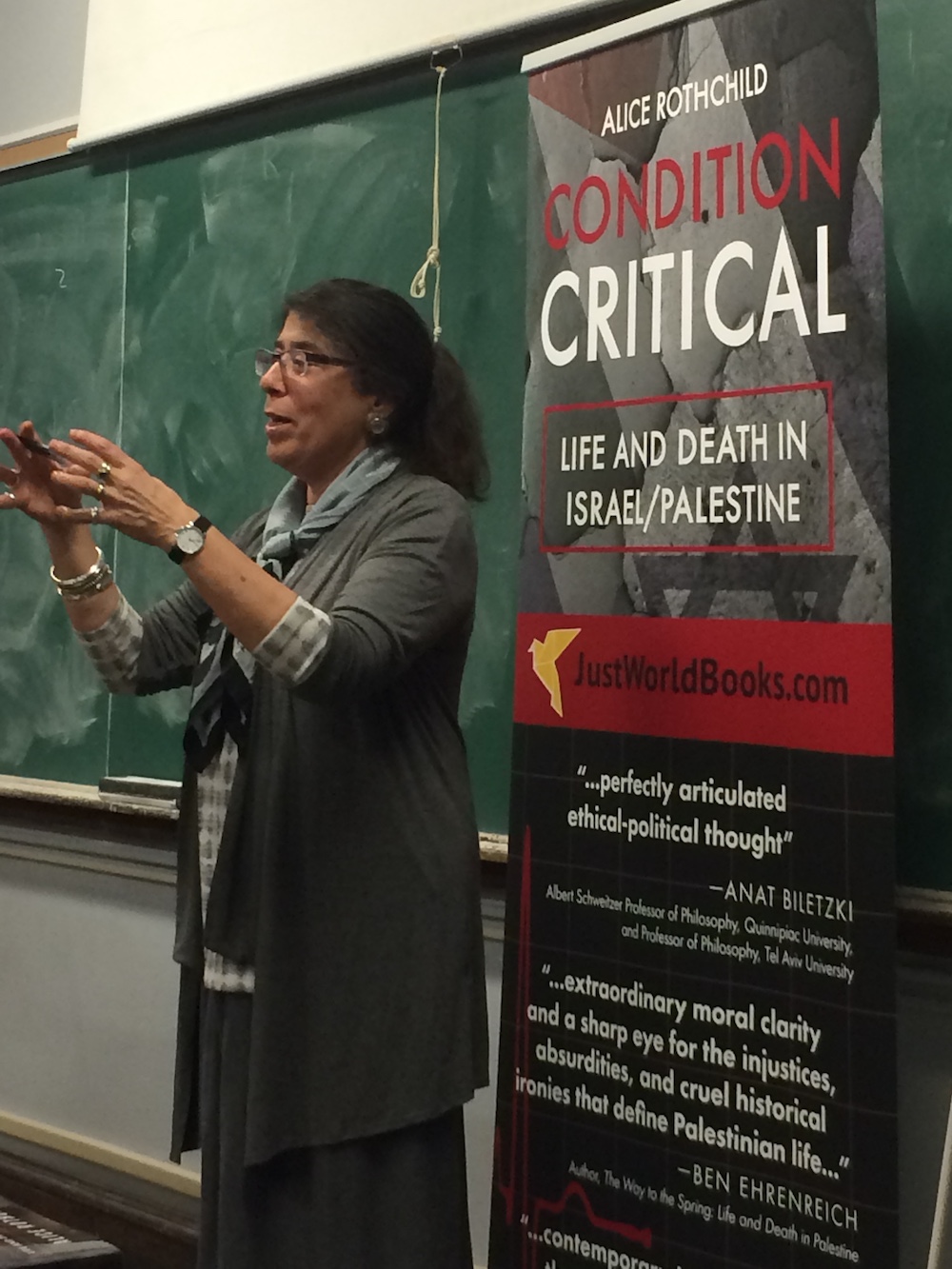 Women's Health in Gaza
As an obstetrician/gynecologist, Dr. Rothchild speaks with special attention to women's health issues in Palestinian communities. When she was in Gaza on her latest trip, she met with members of Aisha, a women's empowerment clinic in the Strip. Those seeking support through the group had told her of the problems of living with husbands suffering mental illnesses or drug addiction– both very common complaints. Many of the women reported that their husbands are abusing Tramadol as a coping mechanism with their difficult living conditions. Post-traumatic stress disorder (that's never really 'post', given ongoing circumstances of conflict), poverty, hunger, and depression are rife after years of suffocating blockade and repeated military assaults upon the imprisoned civilian population. She noted that survivors of the IDF's numerous attacks on Gaza, like the most recent one in 2014, are still facing immeasurably sharpened financial hardships.
Cultural Resistance
Gaza is the most difficult of places to live, and yet she found encouraging signs of cultural resistance there. Gazans are not only victims, she noted: they actively resist, and their efforts can be inspiring.
She told of visiting with an artist living in the northern Gaza Strip. Though the houses all around him have been leveled by the IDF, Mohammad's house miraculously remained standing– and his home and garden are filled with art, often crafted out of found objects. A meat grinder becomes the planter for succulents. A candle holder is made out of an old tear gas canister.
Alice also met with a Parkour team, "PK Gaza". This group of young men practice their sport amidst the rubble created by the Israeli assaults, in places like Beit Hanoun and Shijaiya. Bomb craters blasted stories deep through ruined buildings serve as very challenging terrain for the acrobatic leaps of the Parkourists. For these men, Parkour gives them a release from the confines of Gaza, and a connection with the sport's global community.
Hasbara
Rothchild reminded her listeners that the battle for public understanding of the Israeli-Palestinian conflict is not merely a matter of reconciling dueling narratives. She noted that we must pay attention to the actual realities, beyond the propaganda.
She also cautioned against hopelessness. Ironically, she said she found that the mood more hopeful in the West Bank than in some discussions with leftists in Tel Aviv. As one Palestinian told her, "I don't have the privilege of despair."
During her travels last month in the wake of Trump's election, Palestinians told Alice, "Well now you have your own Netanyahu." Given this new reality, these wise words against despair are good counsel for all of us.
You can see some of the photos from Rothchild's speaking tour so far, at this album on the Just World Books Facebook page. They should have more photos up there soon!
Her tour will continue with events in Washington DC and Baltimore tomorrow (Feb. 10), and in Boston later in the month. Check out all the details on the JWB Events calendar.
Save
Save
Save
Save
Save
Save