Israeli journalist and writer Larry Derfner, whose memoir No Country for Jewish Liberals will be published in April, will also be touring the United States that month. He is hoping to spark broad discussion over the terrible effects he thinks Israel's nearly half-century-long occupation of the West Bank and Gaza has had not just on Palestinians but also on Israeli society itself.
No Country has won accolades from leading figures in both Israel and the United States. John B. Judis, the author of Genesis: Truman, American Jews, and the Origins of the Arab/Israeli Conflict, describes it as "a riveting account of Israel's history," adding, "I had trouble putting it down."
From Israel, Naomi Chazan, the former Deputy Speaker of the Knesset (and a founder of Peace Now) writes, "This is truly a must read for those who care deeply about Israel and worry about where it's going."
Peter Beinart, author of The Crisis of Zionism, describes it as "an insightful, eloquent, intimate book."
You can read the whole collection of advance praise that Derfner's book has won, here.
Larry Derfner grew up in Los Angeles– a city that he evokes very poignantly in his writing. As an adult, he moved to Israel. He now works for Haaretz newspaper, where he publishes periodic columns on the state of Israeli society. (Not long ago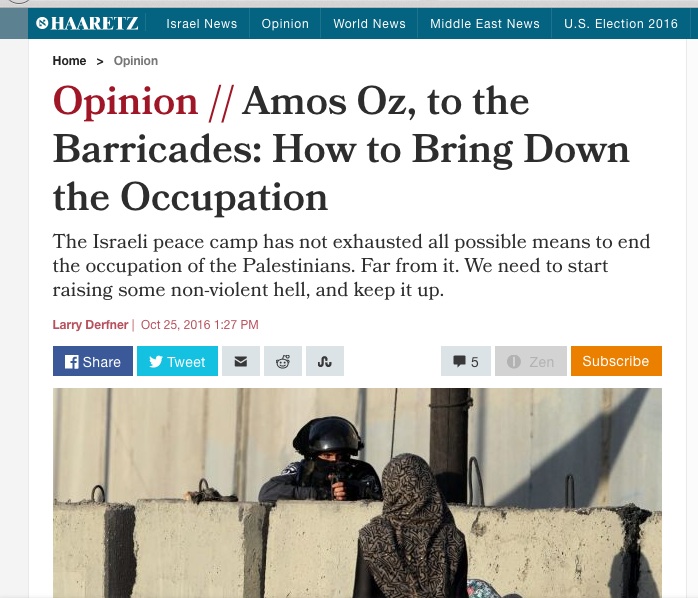 , he published this stirring column, in which he called on Amos Oz and other prominent–but risk-averse–Israeli critics of the Occupation to become a lot more active in their opposition to it.)
Just World Educational is proud to be bringing Derfner over to the United States in April. At a time of profound uncertainty in US-Israeli relations, we and he are eager to help stimulate a broad discussion in this country over what can be done to end Israel's far-too-lengthy occupation of Arab lands.
We've had good interest from partner organizations in various cities around the country–but we still have some good space on his schedule.
If an organization or community group that you work with would like to invite Larry Derfner to come and speak, whether in a debate format or as a solo speaker, please contact us as soon as possible!
Save