By Yousef M. Aljamal*
All photos by Abdallah Aljamal
In early May 1948, Zionist gangs launched an offensive against the village of Aqer, to the south-east of Ramle, where my family is from. My great-grandfather fought the invading forces until his last bullet. (He even tied his own legs together so he wouldn't be tempted to run away.) Later, he was found dead in the school's primary school. He was buried in the village's graveyard and within a few days all the village's residents, including my grandparents, were forced out by the Zionist militias who sent them to the surrounding villages and pushed them all the way towards what later became known as the Gaza Strip. They walked in one straight line along the Mediterranean Sea until they made to Gaza.
My weak-bodied grandmother thought this journey, which lasted for more than 70 years now, would end "within a few days." The village's residents believed that Arab armies would soon come and all of them would return home in a few days.
My grandmother, Zinab Abu-Rahma, whose family's house was bombed by the British due to the role of her father in resisting the British forces, was a simple village woman, whose father who came from a well-known family, married her off to my grandfather, who came from a poor family. He worried about her as he believed that she had a weak constitution and therefore little ability to cultivate the land. She was too simple to believe the promises of Arab armies and thus buried her gold in a hole near her home
The young woman described as "weak-bodied" had to endure much suffering walking all the way from Aqer to Rafah, in the south of the Gaza Strip, carrying her just-born baby, Ghalia, in her arms–and then trying to live in the refugee camp there and later in Al-Nuseirat (the camp where I grew up.) My grandfather also suffered much, dreaming of the day his family would be able again to return to Aqer so that he could recite a prayer at his father's grave, whose love for the land had led him to die for it.
My aunt Ghalia grew up in Al-Nuseirat refugee camp. For 42 years, she taught at UNRWA's schools. She survived many wars, many massacres, and witnessed Palestine's modern history with all its bitter details. She always wanted to be back in Aqer, where she was born. Never was she allowed to. She planted the love of our homeland and the notion of return in every single student she taught. For her, Gaza was a temporary residence and her real home was always Aqer, although she was only a few weeks old when her parents had to leave the village.
The children whom my aunt taught grew up to be strong women and men, mostly refugees, just like my aunt was. The first generation of Palestinian refugees, like my aunt, went for education. The second generation, like my father, went for work; and the third, empowered generation took action– the peak of which today is the Great March of Return.
Palestinian woman in traditional Bedouin dress brings her symbolic "bundle" with the name of her village, and a key, to the March

All generations participating.
A year ago, Palestinians in the Gaza Strip, which is home to eight refugee camps, started a mass, peaceful, protest at the Gaza fence, calling for their right to return back home, known as the Great March of Return. Many of them could spot the villages and towns their ancestors came from across the fence, yet they were never allowed to go back. For them, Palestine was just a step away–the Palestine that they could never return to but had always loved and heard stories about, like the stories my grandmother and then my aunt always told me over and over again.
Those Palestinians wanted to send a message to the world and to Israel, which was created as an apartheid state in historical Palestine, that it is no longer acceptable to live as refugees in Gaza when just a 20-minute drive away live Israeli settlers, on their stolen land, with access to roads, water, education, freedom of movement, and healthcare. These refugees reminded Israel of memories, and exposed how much Israel fears memories, as the late Palestinian poet Mahmoud Darwish wrote: "On this land what makes life worth living; the invaders' fear of memories."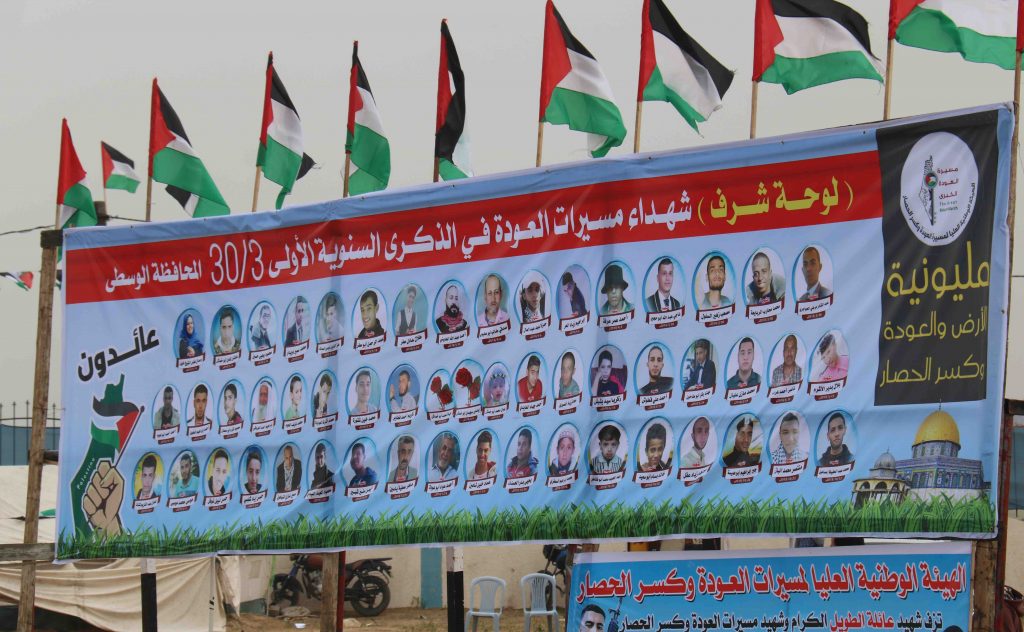 It is the memory that was installed in my aunt through her mother, the memory that was conveyed to me through my aunt that Palestine is a step away, that my great-grandfather's grave is in the village of Aqer: A village that I recalled countless times whenever my name was called by my teachers at UNRWA's schools, who asked me where I originally came from. It is the sure knowledge of Palestinian generations that time can't change the fact that Israel was built on their ruins and they would be one day able to return back.
Israel's response to the Great March of Return was, as it had always been since Israel's establishment on the ruins of Palestine, brutal and lethal. Israeli snipers stationed at the Gaza fence killed 270 Palestinians and injured nearly 17,000 with live bullets. This brutal response has not deterred Palestinians who continued their long march to freedom, protesting every Friday at the Gaza fence in an attempt to shake their chains and knock the walls of their prison.
Israel has to understand that brutal force and its colonial tactics, which it has overused against Palestinians, will only make them stronger and more intent on return. Israel has to understand that no foreign-looking Israeli forces could scare a Palestinian child who grew up in Gaza's refugee camp and survived at least three major Israeli offensives against the coastal enclave between 2008-2014. Israel also has to understand that their professed love for the land will never equal the love for the land of a Palestinian woman who planted an olive tree and cared for it decades, hugging it to prevent Israeli bulldozers from uprooting it. Israel has to understand that it will never be able to uproot the love of Palestine from the hearts of its children and that there is no force on earth could forever be able to prevent a refugee from returning back home. And this is the message that the Great March of Return is sending loudly, all around the world.
Yousef M. Aljamal is a Palestinian refugee who grew up in Al-Nuseirat refugee camp in the Gaza Strip. He is a PhD candidate at the Middle East Institute at Sakarya University in Turkey.