Larry Derfner's new book No Country For Jewish Liberals continues to receive great reviews (and one negative writeup) in major media outlets.
We already covered the early reviews in our last update on the reception No Country has been receiving, including Jonathan Kirsch in the Jewish Journal,  who calls the book "urgent, often witty and deeply unsettling."
Since then the leading American Jewish publication The Forward has run an excerpt from Larry's book – "Israel's City of the Future: Portrait of a Smug Society" – in which Derfner explores the political and sociological realities of contemporary Israel.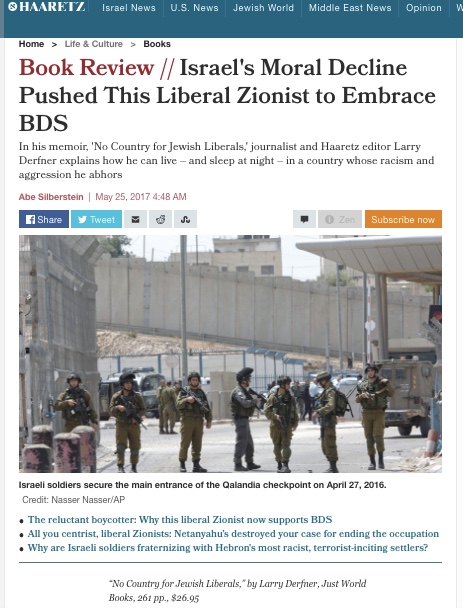 Larry's old newspaper, the Jerusalem Post, published a review as well. In a May 18th review entitled "Over the Line," Ben Fisher tells readers that "Larry Derfner's new book is sure to raise your blood pressure." Fisher writes that, "It would be difficult to find a single member of Israeli society that wouldn't be offended by something in the book's 240 pages." (sic, 260 pages) Quite an accomplishment, we think!
Hammering home the point, Fisher notes that "Derfner is a talented writer who has led an interesting life, but unless you find yourself to the left of Meretz, his book will serve primarily to raise your blood pressure." Duly noted, Mr. Fisher!
Meanwhile, Larry's current home paper, Ha'aretz has positively reviewed No Country. Reviewer Abe Silberstein traces "Derfner's story of political evolution" from accomplished left-liberal Zionist journalist to backer of Boycott, Divestment, and Sanctions – a fascinating journey which, Silberstein notes, "is in no way a linear one."
Also be sure to check out the penetrating interview Gilad Halpern (who also joined our Facebook Live event) recently conducted with Larry for his excellent political and cultural program Tel Aviv Review on the major radio station TLV1. The interview is a wide-ranging 30 minute discussion – perfect for your commute.