On November 13, Mohammad Sabaaneh entered another super-busy phase of his U.S. tour, which by the time he finishes on the evening of Nov. 19 will have seen him do a total of eight public events, in six cities, in just seven days! (Check out the tour photo album we have on Facebook with memories of all these events!)
Two highlights of this latest whirlwind of activity were the fundraiser Mohammad headlined in mid-town Manhattan Nov. 15 to benefit the Friends of the Jenin Freedom Theater…
…and the fabulous "conversation event" he spoke at two days later, at the opening of the exhibition of his linocut prints at the Jerusalem Fund Gallery in Washington DC.
One scene of the discussion at the Jenin Freedom Theater event is shown at the head of this blog post. In the photo at right, "Bro" Russell, the Executive Director of Cartoonists Rights Network International had just presented Mohammad with a statue of Nelson Mandela, in recognition of the work Mohammad has done from CRNI, especially in the Middle East.
Mohammad's show at DC's Jerusalem Fund Gallery will continue until December 15, on which date there will be a fun reception involving a live auction of the works that remain unsold. (Details to come.) Anyone who's in DC can visit the show while it's up, during normal gallery hours.
The Jerusalem Fund Gallery is located at 2425 Virginia Ave NW. Call them at 202-338-1958 with any inquiries.
We are delighted that Mike Rhode, publisher of the ComicsDC blog, has already published this thoughtful and appreciative review of Mohammad's show. Check it out to see which were his favorite images!
The main event at the Nov. 15 Jenin Freedom Theater benefit was also staged in a "conversation with" format, with the interlocutor in that case being the playwright and social activist Jen Marlowe.
At the end of their conversation, Felice Gelman, head of the Friends of the JFT, introduced a silent auction of two works Mohammad had donated to the Friends organization.
There was then a lively discussion with audience members, including two friends from the Naturei Karta organization, who roundly rebutted the argument so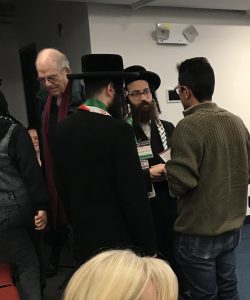 frequently heard that criticizing Israel's policies (as Mohammad does in many of his cartoons) is in any way equivalent to being anti-Semitic. These two friends also buttonholed Mohammad after the main event, to further their acquaintance with him and assure him of their solidarity (at right.)
In addition to those two big events, the other events that Mohammad spoke at over the past week were:
A community gathering in White Plains, NY, hosted by Wespac:
 A great evening organized by Ben Katchor at the New School in NYC (Parsons School of Design), where Mohammad co-presented with the radical cartoonist Eli Valley, and later caught up with Seth Tobocman. (Seth, who contributed a great Foreword to Mohammad's 2017 book White and Black, is just releasing the latest edition of his periodical World War 3 Illustrated, which contains a great interview with Mohammad, accompanied by some art specially contributed by Mohammad.)
An informative event at Revolution Books in Harlem, where Mohammad discussed his work with Raymond Lotta of the Revolution Books Educational Fund. You can see Revolution Books's video of this event by clicking on the screengrab from it here:
Mohammad is currently in New Jersey, where he did one event yesterday and has two on his schedule for today.