Today the Great March of Return by Palestinians in the Gaza Strip enters its 30th week. Over the first 29, Israeli military fire into Gaza not only killed 217 Palestinians, but injured 22,897 more, the United Nations Office for the Coordination of Humanitarian Affairs reported this morning. At least 11,913 were hospitalized, including 5,502 shot with live ammunition.
Also this morning, Amnesty International warned that a policy of "zero tolerance" Israel had threatened toward the protests could result in "escalating bloodshed."
"Given Israeli forces' horrific track record of using deadly force against Palestinian demonstrators in Gaza, as well as journalists, medics and others, the announcement of a 'zero tolerance' policy is deeply alarming," Saleh Higazi, the global human rights organization's deputy director for the Middle East and North Africa, said in a statement.
In a separate statement marking the International Day for the Eradication of Poverty, Gaza's  Al Mezan Center for Human Rights reported that both poverty and unemployment rates in the besieged Palestinian enclave had topped 53%, while abject poverty, defined as a family of five surviving on less than $550 per month, stood at 33.8%.
Ahead of today's demonstration, Just World Educational asked Basman Elashi, executive director of Gaza's El-Wafa Medical Rehabilitation and Specialized Surgery Hospital, about the effects of the March, as well as Israel's closure and punitive measures against the Strip and 2014 bombardment of it. This text was lightly edited for clarity and length.
JWE: Most media coverage of the Gaza Strip health sector and its treatment of Palestinians injured during the Great March of Return has focused on Al-Shifa, Gaza's largest hospital, and other emergency rooms. How is El-Wafa, Gaza's only rehabilitation hospital, coping?
BE: The number of cases that have been admitted to the hospital since the start of the March of Return has increased. That increase has added an additional load to the already existing load on our staff.
Hospital resources have been very limited since January 2018 due to the shortage of medicines and medical supplies entering Gaza. It is difficult to overcome these challenges. We are unable to provide full medical service to the injured. We urgently need to train our hospital staff to manage the overload, despite medical shortages, and provide well-trained medical personnel to be able to handle the more complex cases.
JWE: During Israel's 2014 bombardment of the Gaza Strip, it repeatedly targeted El-Wafa's original site in Shujaya, east of Gaza City, with missiles, ultimately forcing its evacuation before bombing the facility to rubble. How has the hospital's displacement affected its capacity?
BE: Due to the displacement of El-Wafa in 2014, much of our medical equipment and disposable supplies were destroyed. Currently, we are unable to afford new equipment and resources to provide the injured and more complex cases with the proper advanced medications and treatments.
For example, today we have four patients who are dependent on mechanical ventilators to survive. These are very limited in number in Gaza, and it is difficult to find spare parts.
Due to the difficulty of the situation and the complexity of new cases received from the March of Return, El-Wafa hospital developed a new unit to serve these patients with limited or no medical devices to monitor them. This unit has added additional costs to the already high patients care expenses at the hospital.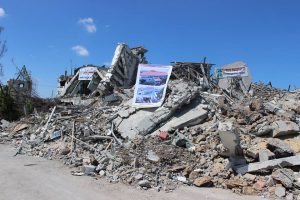 JWE: On October 12, Israeli military chief Avigdor Lieberman ordered a halt in shipments of fuel and gas to the Gaza Strip, aggravating an already severe energy crisis. How has the shortage affected El-Wafa, other hospitals, and their ability to respond to the Great March of Return?
BE: First, the Israeli cabinet refused to halt the fuel shipments to Gaza. However, the halt was for a short period. Second, the shortage of electricity has increased the dependence on fuel to run the generators.
To cover the additional cost of fuel, El-Wafa hospital trained their medical staff to reduce the overhead cost, since most of this fund is allocated to cover the fuel cost.
Other hospitals in Gaza are dealing with the shortage of electricity and new, complex cases by developing new medical procedures to reduce the cost.
The biggest resource challenge all hospitals face on a daily basis is the fuel to run the generators. Electricity comes only four hours a day. However, this is not the only problem hospitals in Gaza face.
Hospitals in Gaza need to add additional medical staff to their emergency teams and direct supplies of medicines and disposable medical supplies.
Another challenge is the shortage of transportation, which limits hospitals' abilities to follow up on March of Return cases at their homes and provide care in the field, where injuries could have been treated without transportation and admission to local hospitals.
JWE: What else do you think those of us watching from the outside should know, but might not?
BE: Israeli created the largest concentration camp in the world by preventing over two million Palestinians from leaving or entering Gaza. Israel has imposed movement restrictions on the Gaza Strip since the early 1990s. Restrictions intensified in June 2007. They control the air, land, borders and sea.
Since March 2018, Palestinian stand at the artificial border of their occupied land every Friday to protest and demand the end of the blockade. They are met with Israeli snipers, using illegal, lethal weapons that kill Palestinian children, women, medical staff, and youth.
Israeli snipers are shooting civilians in their arms, legs and chests to create more disabled people in Gaza.
The world must understand that Palestinians are protesting for their right to live, their right to get proper medical care, their right to move in and out of Gaza without any special permit from the occupier, and their right to be recognized and return to their homelands.
All measures were taken by Palestinians to protect themselves and prevent the Israelis from shooting them.
Give Gazans the chance to live freely, lift the unjust blocked and free over two million Palestinians from the concentration camp created by the state of Israel.
Give Palestinians their future that they can pass on to their children.
Peace can only be achieved by peace. For the past 70 years, the actions of the Israelis tell Palestinians that they don't want peace. They want to eliminate Palestinians.
Come and live among Palestinians and you will see the truth. You will see who is right. We are ready. Are you?