About this Resource Center
Our goal with this Resource Center is to provide a learning hub that pulls together as many as possible of the online resources available worldwide on the little-studied topic of the role that women organizers, leaders, and activists played in South Africa's historic struggle against apartheid.
We will also be presenting several materials that Just World Educational and our various partners have created on this topic. Please check back frequently to see the new materials we have here! If you can identify or share relevant materials that you know about that we do not yet have posted here-- please tell us!
Resources that we and our partners have produced on this topic are:
JWE's interview of South African Ambassador Nomaindiya Mfeketo,

herself a significant grassroots organizer and leader in the struggle 

inside

 South Africa in the 1970s and '80s, in a period when all the anti-apartheid parties and movements were banned and their leaders in exile.

The online launch of Women Surviving Apartheid's Prisons by Shanthini Naidoo which featured the author in conversation with South African Ambassador H.E. Nomaindiya Mfeketo (herself an ANC activist) and journalist Donna Bryson. With appearances from U.S. Civil Rights activist Gwendolyn Zoharah Simmons and anti-Apartheid activist Shanthie Naidoo.
The 240-page paperback  Women Surviving Apartheid's Prisons by Shanthini Naidoo, which was released February 1, 2021 by our partners at Just World Books. It profiles four notable she-roes of South Africa's freedom struggle: Rita Ndzanga, Joyce Sikhakhane Rankin, Shanthie Naidoo, and Nondwe Mankahla, along with the late Winnie Mandela.
The 70-minute video "Women in Solitary: The Reunion" a record of an online event held at the end of November 2020 that reunited the four she-roes profiled in Women Surviving Apartheid's Prisons. (The book was published in Cape Town in August 2020 under the title Women in Solitary.) This event was organized by South Africa's Value Ed and co-hosted by their leaders Refilwe Digoamaje and Vikela Rankin, with JWE providing some technical help.

Scroll on down to see this video and some key short clips from it, and to learn more about the book.
***
All materials are published here under a Creative Commons license, which means you are free to re-use any of them for non-commercial purposes, provided you give due attribution to Just World Educational and the individual creators/contributors. If you want to use any of these materials for commercial purposes, please contact Rights@justworldeducational.org to ask about terms.
On Women Surviving Apartheid's Prisons by Shanthini Naidoo
---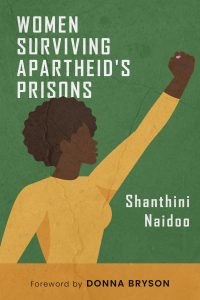 In 1969, South Africa's apartheid government arrested anti-apartheid leaders and activists nationwide for a key planned show trial. Among them were seven women, three of whom (including Winnie Madikizela-Mandela) have since died. This book by South African journalist Shanthini Naidoo uses rich interview material to share the previously unknown stories of the four imprisoned women who are still living: Joyce Sikhakhane-Rankin, Rita Ndzanga, Shanthie Naidoo, and Nondwe Mankahla.
These four freedom fighters were held in solitary confinement for more than a year and subjected to brutal torture in a bid to force them to testify against their comrades. But they refused to do so, which forced the whole trial effort to collapse.
Women Surviving Apartheid's Prisons explores how women from different oppressed communities in South Africa defied traditional gender expectations and played a key role in the overthrow of Apartheid.
Women Surviving Apartheid's Prisons is available in paperback and eBook formats. It can be purchased here.
---
---
History of Women in South Africa's Anti-Apartheid Struggle
---
Participants in the Women in South Africa's Struggle Against Apartheid Series
---
Support Just World Educational
If you find this project worthwhile, engaging, and useful, please consider supporting our mission. We strive to expand the dialogue on vital international issues by providing educational materials and a platform for critical thinkers.
---
JWE has a golden opportunity to make a difference in this country...

Stay in touch! Sign up for our newsletter: