On February 3, Just World Educational and author-activist Miko Peled will be launching a new project: A speaker series on the topic of "US-Israeli Collusion in Eroding Civil Liberties." This speaker series will last a number of weeks, with events confirmed for New York City, (Brooklyn); Clifton, NJ; Washington DC; and Seattle, WA.
Mr. Peled is the author of the new book Injustice: The Story of the Holy Land Foundation Five, which highlights the 2004-08 case that the US Justice Department brought against the five Palestinian-Americans who headed up the "Holy Land Foundation" humanitarian-aid organization.
The story he tells is at one level a quintessentially Palestinian story of repeated displacements and attempts to rebuild. But it also underlines the ways in which judicial/security authorities in the United States and Israel colluded in order to win convictions against the five men in a second trial– after the first trial held in their case had resulted in a mistrial. The use of anonymized Israeli secret witnesses in the second trial showed the degree to which the US Justice Department was prepared to shred the protections afforded all citizens under the Sixth Amendment.
The book has received glowing advance notices from people like Chris Hedges, Dr. Sami al-Arian, and Majorie Cohn, and Louise Cainkar. You can read all these endorsements, learn more about the book, and place your pre-order at this page on the Just World Books website.
As for the very timely speaker series that's connected with this book, we have the following events confirmed for it:
** Clifton, NJ– Sat., February 3, 7:00 pm: Presentation and discussion at the Palestinian American Community Center, 388 Lakeview Ave.
** Brooklyn, NY– Sun., February 4, 7:00 pm: Presentation and discussion at Brooklyn Commons, 388 Atlantic Ave.
** Saugerties, NY– Fri., February 9, 7:00 pm: Book talk and discussion at Inquiring Mind Bookstore, 200 Main St. (This is an independently organized event. We will provide more details as we are able.)
** Washington DC– Thurs., February 15, 7:00 pm: Presentation and discussion on "Civil liberties, Islamophobia, and the Holy Land Foundation", co-sponsored with "Rights and Dissent Coalition", at Busboys and Poets at 14th and V Sts NW.
** Seattle, WA– Tues., February 20, 9:00 am: Presentation and discussion at Seattle Pacific University. (Details to come.)
** Seattle, WA– Tues., February 20, 7:00 pm: Book talk and discussion at Elliott Bay Book  Company, 1521 10th Av.
** Tacoma, WA– Wed., February 21, 7:00 pm: Presentation and discussion co-sponsored with Jewish Voice for Peace, Tacoma chapter. (Details to come.)
There will be another Just World Ed-sponsored event in this speaker series in Washington DC in early March (details t.b.d.), and Mr. Peled himself and other organizations around the world will be organizing other events to talk about this same subject, too.
Copies of Injustice will be available for sale and signing at these events.
As many people already know, Miko Peled is a powerful, thought-provoking public speaker with many significant insights to share. His first book, The General's Son: Journey of an Israeli in Palestine, has been translated into seven languages and continues to attract readers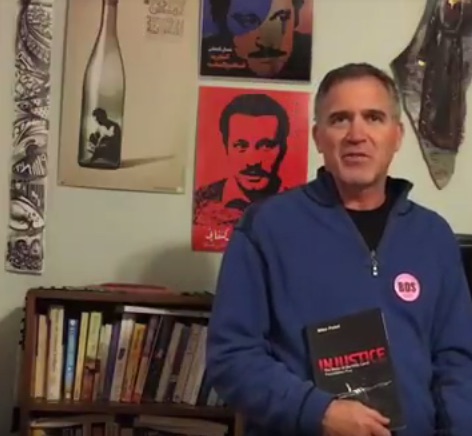 around the world.
We're confident that the new set of conversations Mr. Peled will be sparking with the new book and speaker series can help inform people everywhere about the depth of the entanglement between the police/judicial/security agencies in the United States and Israel.
You can hear him talking about the newbook in this ten-minute video.
Over the days ahead we'll be gathering more details about the above events (and possibly other ones, too.) Please check back regularly with this events calendar to learn the latest!
For more information, please contact our Outreach Director, Steve Fake.